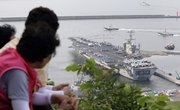 Aboard USS George Washington — A massive nuclear-powered U.S. supercarrier began maneuvers today with ally South Korea in a potent show of force, four months after the sinking of a South Korean warship. North Korea threatened the exercises could lead to nuclear war.
The military drills, set to run through Wednesday, involve about 8,000 U.S. and South Korean troops, 20 ships and submarines and 200 aircraft. The USS George Washington, with several thousand sailors and dozens of fighter jets aboard, was deployed from Japan.
The exercises will be the first in a series of U.S.-South Korean maneuvers conducted in the East Sea off South Korea's east coast, and in the Yellow Sea closer to China's shores in international waters. The exercises also are the first to employ the F-22 stealth fighter — which can evade North Korean air defenses — in South Korea.
The American and South Korean defense chiefs announced last Tuesday in Seoul they would stage the military drills to send a clear message to North Korea to stop its "aggressive" behavior.
Washington and Seoul blame Pyongyang for the sinking of the 1,200-ton Cheonan warship in late March near the Koreas' maritime border. A five-nation team of investigators concluded a North Korean torpedo sank the Cheonan, considered the worst military attack on the South since the 1950-53 Korean War.
North Korea, which denies any involvement in the sinking, has warned the United States against attempting to punish it. The regime called the drills an "unpardonable military provocation" aimed at preparing an invasion.
"Our military and people will squarely respond to the nuclear war preparation by the American imperialists and the South Korean puppet regime with our powerful nuclear deterrent," the North's government-run Minju Joson newspaper said in a commentary headlined, "We also have nuclear weapons."
The commentary was carried by the official Korean Central News Agency.
The North's powerful National Defense Commission issued a similar threat Saturday, saying the country "will start a retaliatory sacred war ... based on nuclear deterrent any time necessary in order to counter the U.S."
Pyongyang's rhetoric regarding using nuclear deterrence was seen by most as bluster, but its angry response to the maneuvers underscores the rising tension in the region.
The North routinely threatens attacks whenever South Korea and the U.S. hold joint military drills, which Pyongyang sees as a rehearsal for an invasion. The U.S. keeps 28,500 troops in South Korea and another 50,000 in Japan, but says it has no intention of invading the North.
South Korea was closely monitoring North Korea's military but spotted no unusual activity today, the Defense Ministry said.
Copyright 2018 The Associated Press. All rights reserved. This material may not be published, broadcast, rewritten or redistributed. We strive to uphold our values for every story published.