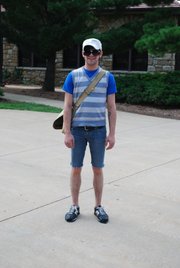 Age: 22.
Sign: Aquarius.
Hometown: Jacksonville, Ill.
Time in Lawrence: 3 years.
Occupation: Bartender at Cinzetti's Italian Market Restaurant in Overland Park.
What were you doing when scouted? Walking from one English class to the next.
How would you describe your style? I like to keep it pretty simple. I'm kind of a T-shirt and jeans kind of guy.
What are your current favorite fashion trends? Denim cut-offs, waxed mustaches and V-neck T's.
What are your least favorite fashion trends? Puka-shell necklaces, pants or shorts with words written across the back, and Uggs — especially if they come with tassels.
What would you like to see more of in Lawrence? Cats on leashes.
What would you like to see less of in Lawrence? Drunken brawls between bros in the alleys anytime after dark.
Who are your fashion influences? Elvis Costello and Alexander McQueen.
Do you have any piercings or tattoos? I used to have piercings until I needed a better job. I have three tattoos.
People say I look like: Charlie from "Lost" and Christian Siriano.
Tell us a secret: I'm a senior at KU, and I still have no idea what I'm actually going to do when I graduate.
Bag: Urban Outfitters, 2006, $30.
Shoes: Nike, Arizona Trading Company, 2004, $15.
Shorts: Levis, Urban Outfitters, 2008, $50.
Shirt: Urban Outfitters, 2009, $18.
Vest: J.Crew, 2009, $45.
Hat: Puma, the Bunker, 2009, $25.
Sunglasses: Plato's Closet, 2010, $5.
Copyright 2018 The Lawrence Journal-World. All rights reserved. This material may not be published, broadcast, rewritten or redistributed. We strive to uphold our values for every story published.