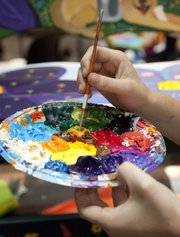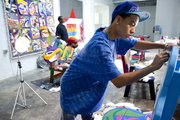 Van Go benchmark artists and clients
• Dillon Allen — Best Buy
• Krystin Arkeketa — John and Susan Wachter
• Desiree Bennett — Del Monte
• Abuk Deng — Alice Lieberman and Tom McDonald
• Jalen Flowers — Milton's
• Georgia Foster — Henry's Coffee Shop in memory of Con Walsh
• Cassie French — Water's Edge
• Ashlie Giffin — Milton's
• Terence Hernandez — Carmody Family for Douglas County CASA
• Shannon Jaramillo — Haskell University
• Alex Leland — Prairie Moon Waldorf School in memory of Jacob Goans-Heinz
• Grace Miller — Lynn D. McCormick Memorial Bench for the Lawrence Public Library
• Macio Palacio — Jill Kleinberg
• Kyleigh Price — Raintree Montessori School
• Victoria Secondine — Headmasters Salon
• Kiera Shorter — Carladyne Conyers
• Anna Taylor — Hilda Enoch
• Floyd White — Biemer's BBQ
• Garnel Williams — P-1 Group Inc.
• Shanda Wright — The Office of Diane Bythell
Grace Miller has been working all summer on a memorial bench that she will finally unveil to her client on Friday.
The bench is in memory of Miller's client's mother and will sit at the Lawrence Public Library. Miller, 17, painted the bench to represent things her client's mother loved: from mandalas to Ukrainian eggs.
Miller is one of 20 at-risk youths who were paired with local businesses or individuals to create a one-of-a-kind bench in early June as part of the Van Go Inc. Benchmark 2010 program.
The program helps the young artists gain life skills, work cooperatively as a team, and express themselves artistically. The teens will unveil their finished benches in a ceremony at 5 p.m. Friday.
The teenagers were referred, chosen through a hiring process, then paired with clients, who include individuals, corporations like Best Buy and academic institutions like Haskell Indian Nations University.
The artists worked with their clients to come up with a blueprint for the benches. They sanded the wood, created the design, and painted it according to their clients' interests. Each commissioned bench cost $900.
The finished benches will be displayed indoors at each business or residence. Currently, 200 benches are at various locations around Lawrence.
"It's great that they're having public recognition for their work," said Eliza Nichols, marketing director at Van Go Inc. "It's a huge confidence-builder for them."
David Lewis, owner of Milton's, 920 Mass., commissioned two benches this summer for the restaurant, and he hasn't seen the progress since last month.
Milton's also commissioned a bench through the same program in 2000, and the young artist who made it now works at the restaurant. Lewis said that bench was getting old — a reason for the new ones — and that he enjoys working with young people.
"I'm excited to see the benches," he said. "It's a great program."
Copyright 2018 The Lawrence Journal-World. All rights reserved. This material may not be published, broadcast, rewritten or redistributed. We strive to uphold our values for every story published.