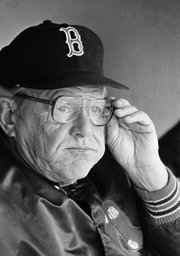 Ralph Houk, who was born on Aug. 9, 1919, in Lawrence, graduated from Lawrence's Liberty Memorial High, earned a Silver Star, Purple Heart and Bronze Star as a World War II hero before managing the powerhouse New York Yankee teams of the early 1960s to two World Series championships, died Wednesday.
Houk — he also managed the Boston Red Sox and Detroit Tigers in a 20-season career that spanned three decades — was 90.
Red Sox spokesman Dick Bresciani said Houk's grandson, Scott Slaboden, told the team Houk died at his home in Winter Haven, Fla. Slaboden, who lives in the Boston area, wrote in an e-mail to the team that Houk "died peacefully of natural causes after having a brief illness."
Houk grew up on a farm near Stull. He was a standout Lawrence High football and basketball player and track sprinter who graduated in 1938. He signed with the Yankees at 19, at the time catching for Lawrence Green Bros. Hardware in Kansas City's Ban Johnson League.
"What got me interested in baseball," Ralph Houk once told the Journal-World, "was playing for the Eagles team back in the old South Park League. I can remember my first pair of baseball shoes. That was a big day. They had yellow shoe strings and I put them on for the annual parade from the Kaw River Bridge to South Park. You should have seen the blisters.
"At that time I didn't even realize I'd ever make the majors let alone manage the Yankees. But when you have some success, you keep trying and set your sights higher."
Before reaching the big leagues with the Yankees in 1947, Houk served in the Army in World War II and rose to the rank of major — a moniker that stuck even when he returned to baseball.
He earned the Silver Star, Purple Heart and Bronze Star after fighting at Bastogne and the Battle of the Bulge. According to his Silver Star citation, he "deliberately exposed himself to the withering fire and calmly moved from one position to another directing his men."
Houk spent parts of eight seasons as a backup catcher for New York, appearing in 91 games. Former Yankees shortstop Tony Kubek, who played for Houk in the minors and majors with New York, said Houk learned a lot about handling a pitching staff from working with Hall of Famer catchers Yogi Berra and Bill Dickey in the bullpen.
"He had the Yankees' spirit, the Yankees' winning attitude," Kubek said. "He had all the qualities that make a special manager."
Houk managed 3,157 games and won 1,619 with a winning percentage of .514. After leaving the Yankees in 1973, he went to Detroit and managed the Tigers from 1974-78. His final stint in the dugout came with Boston from 1981-84.
"Ralph Houk came along and changed my whole idea of thinking about myself," the late Hall of Famer Mickey Mantle once said of Houk. "I didn't have any real confidence. Not until Houk came along and told me: 'You are going to be my leader. You are the best we've got.'''
"People forget that before he was a manager, he was a war hero and he was a catcher for a lot of years," Tigers radio analyst Jim Price said. "He was a great guy. I knew him very well, and everyone that played for him loved him."
Houk's best seasons as a manager were his first three in New York. He took over the Yankees in 1961 and behind Mickey Mantle and Roger Maris the team won 109 game and a World Series championship.
The Yankees repeated as champions in 1962 and won the AL pennant in 1963, but were swept by the Los Angeles Dodgers in the World Series.
Houk managed a handful of Hall of Famers in New York, but Kubek said he was an integral part of the team's success.
"Sometimes when you have good players, you can mess it up and he didn't do that," he said. "He didn't overmanage. He was probably, more than a strategist, a handler of men."
Houk moved into the front office after the series loss to the Dodgers, serving as Yankees general manager in 1964 and '65. He returned to managing the Yankees in 1966 and held the job until 1973, but he only had four more winning seasons and never finished better than second place.
Houk came out of retirement in 1980 at the age of 61 to take over as Red Sox manager. He had three winning seasons before retiring for good in 1984, leaving behind the core of a team that would reach the World Series in 1986.
"He was a great players' manager, a real good guy and a tough son of a gun," Dodgers manager Joe Torre said. "I got to know him after his managing days, and he's a great credit to the Yankees, Red Sox and Tigers organizations."
But he'll most be remembered as a Yankee.
"He was just a wonderful guy, loyal to his players," Kubek said. "The Major was just a great person."
Houk is survived by his daughter, Donna Houk Slaboden, his son Robert Houk and four grandchildren and 10 great-grandchildren.
Long-time Lawrence native and long-time youth baseball coach Walt Houk is a second cousin of Ralph Houk.
Copyright 2018 The Lawrence Journal-World. All rights reserved. This material may not be published, broadcast, rewritten or redistributed. We strive to uphold our values for every story published.