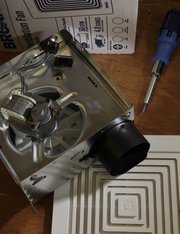 Replacing an existing bathroom exhaust fan with a quieter, more energy-efficient one can be a relatively simple job.
Step 1: Use the breaker or fuse in the service entrance panel box to turn off the power to the existing bathroom exhaust fan.
Step 2: Remove the cover plate to the existing fan and detach the blower unit from inside the housing.
Step 3: If the housing and wiring on the old fan is the same as the new fan, simply replace the old blower unit with the new one, snap the cover plate back into place and turn the power back on. Otherwise, detach the duct work and disconnect the old wiring, carefully noting how it is currently wired and marking the old wires as necessary.
Step 4: Remove the old housing by unscrewing all of the mounting screws holding it to the joist.
Step 5: If the housing for the new fan is larger than the housing for the old fan, trace around the template or housing of the new fan and use a drywall saw to enlarge the existing hole in the ceiling.
Step 6: Attach the duct work to the new housing and follow the manufacturer's installation instructions to properly secure the housing to the joist. Position the housing so it is flush with the finished ceiling and secure all fasteners appropriately to ensure quiet operation.
Step 7: Follow the manufacturer's installation instructions and connect the wiring to the new fan unit. Typically this involves twisting like colored wires together and capping them with wire nuts. Once the wires are attached, wrap each wire nut assembly with electrical tape for extra security.
Step 8: Attach the new blower unit into the properly mounted and wired housing.
Step 9: Turn the power back on and test the new fan unit.
Once you are sure the new fan is functioning properly, attach the cover plate, clean up your tools and breathe a breath of fresh air, knowing those long, hot steamy showers will not be such a problem anymore.
Copyright 2017 The Lawrence Journal-World. All rights reserved. This material may not be published, broadcast, rewritten or redistributed. We strive to uphold our values for every story published.