St. Andrews, Scotland — After two rounds of this year's prestigious British Open, it is pretty much as we all thought. Louis Oosthuizen is leading by five shots.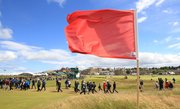 Make that Lodewicus Theodorus Oosthuizen.
"It's my grandfather's name," said the 27-year-old South African. "They call me Louis now."
Well, not everybody. The woman who introduced Oosthuizen for his news conference called him Peter Oosthuizen. Peter Oosterhuis is the former English golf star and occasional television commentator who is 62 now. Still, he remains more famous than Louis Oosthuizen, who, until Friday, wasn't even as famous as the guy announcing the players on the first tee.
But then came a round of golf not often seen in daylong conditions more conducive to sitting by a fire and reading a book than playing golf. That put Oosthuizen on the golf world's radar.
His father is a farmer, he once was a top junior tennis player, and the only way he was able to financially navigate his way through the early years of pro golf was with help from the Ernie Els Foundation, which backs young golfers from Els' country.
He has gotten into eight majors and missed the cut in all but one, the 2008 PGA. He was asked, given this record, if he had rented a house in St. Andrews for two days or four. That question would have offended most golfers. Not Oosthuizen, who laughed.
"Booked a house through Sunday night," he said. "I was planning on making the cut."
One suspects he wasn't planning on shooting 67-65 and leading by five shots after 36 holes. Had you put a nice bundle down on that in Las Vegas, you'd be flying your own jet over right now to watch the weekend.
Oosthuizen's lead was as miraculous as the weather was mystifying. He played in the morning, when it rained cats and dogs and rabbits and squirrels. It also blew so hard for most of his round that he described one of his tactics as having to "focus on where you are pointing your umbrella, otherwise, you don't have one."
Still, he went shot a five-under 67, with seven birdies and two bogeys, to go with Thursday's 65.
Oosthuizen, pronounced West-Hi-Zen, said he was proud because, "I struggle in rainy situations, really, and today I got my head around it."
Not so some of the bigger-name leaders, who went out in the afternoon, when the rain stopped but the wind got even worse. They weathered a 1-hour, 5-minute stoppage of play because the wind was moving balls on the putting surface.
First-round leader Rory McIlroy, who had broken 70 in all nine of his rounds at St. Andrews, including Thursday's 63, got his first taste of severe weather here and disappeared quickly off the leaderboard. He retained his record of never shooting in the 70s at St. Andrews, carding an 80.
John Daly, wearing red pajamas this time after his first-round 66, was 10 shots worse at 76.
Tiger Woods persevered much better, battling to a 73 that left him within eight of Oosthuizen, still striking distance for him.
Woods was also part of a dramatic end to a long and bone-chilling day that concluded just before 10 p.m.
First, Woods drove the 357-yard 18th, rolling his tee shot past the cup within inches and then barely missing his 15-foot eagle putt.
In the group behind was 60-year-old British Open legend Tom Watson, who was going to miss the cut. Tournament officials let him tee off, just before horns sounded for groups to finish with the hole they were on. That was so he wouldn't have to return to finish his last round at St. Andrews at 6:30 this morning.
After Woods' group had putted out and Watson had made his last, emotional trip over the Swilcan Bridge, he chipped from the valley in front of 18 and stopped his ball an inch from the cup. Before a loud and adoring crowd, Watson made his last stroke at St. Andrews, a one-inch birdie putt for 75.
The afternoon wind, under a sunny sky and fast-moving clouds and accented by an ocean roiling nearby, certainly helped keep alive the mystique of St. Andrews, where games of even the best golfers in the world come to die in conditions such as Friday's. There are hundreds of ways to describe the gusts of up to 41 mph, but a commentator from the BBC did it best.
"The seagulls are walking," she said.
Oosthuizen is flying, much to the shock of all.
In his resume is a 57, shot in a round with friends in December 2002, shortly before he turned pro. The scorecard from that day shows eleven 3's and two 2's on a full-size, par-72 course in South Africa. He used to have a Shrek head-cover on his clubs, but his caddy told him to toss that because it was bad luck.
Why Shrek? It's his nickname.
"It's the gap in my teeth," Oosthuizen said. "My friends say I look like Shrek. And you can't choose your friends, so what can I say?"
Friends? If Oosthuizen somehow wins out in this war of weather and willpower, he'll have millions of them.
Copyright 2018 The Lawrence Journal-World. All rights reserved. This material may not be published, broadcast, rewritten or redistributed. We strive to uphold our values for every story published.