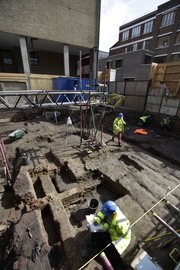 London — In the middle of London, a plot of earth is dug across with trenches and studded with old bricks. If the world of theater ever has hallowed ground, this is it.
It's the site of London's first long-standing theater, where William Shakespeare's plays were performed and where the Bard himself once acted.
Archaeologists who have been digging here since 2008 have uncovered a section of outer wall and floor surface from the building, completed in 1576 and known simply as The Theatre — whose timbers were later used to build The Globe theater.
Now a London drama troupe plans to erect a new building on the site, bringing live performances back to the spot where Elizabethan drama flourished more than 400 years ago.
This week actor Paul McGann stood amid the dirt and bricks and recited the prologue to "Romeo and Juliet" — a play historians believe had its premiere on this site and in which Shakespeare may have taken a small acting role.
For theater fans — and especially for actors — this spot is special.
Shakespeare's influence on English culture is incalculable, but relatively few physical links to him remain. Tourists can visit his birth and burial places in the town of Stratford-upon-Avon. In London, there's a reconstruction of the Globe playhouse where he worked near its original site south of the River Thames.
Nowhere else but at The Theater, however, can actors stand exactly where their Elizabethan predecessors once stood.
The remains of The Theatre were discovered underneath a Victorian warehouse, which unlike many similar buildings had no basement. That meant the layers below had been preserved.
Copyright 2018 The Associated Press. All rights reserved. This material may not be published, broadcast, rewritten or redistributed. We strive to uphold our values for every story published.