Chauvin, La. — The slicks on the surface will disappear quickly if the cap on BP's blown oil well holds. But the oil will remain in the water, on beaches and in marshes, and in the lives of Gulf Coast residents like Jason Blanchard for years.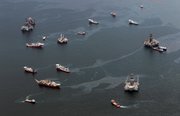 Up to 184.3 million gallons of crude has already spilled. Months from now, it could show up as far west as Corpus Christi, Texas, or as far east as North Carolina's Outer Banks. Judging by a comparably sized 1979 spill off Mexico's coast, tar balls and patties could keep washing ashore for decades.
And so, in the sleepy, bayou-embraced town of Chauvin, Blanchard is not expecting to return to his pre-oil-spill days anytime soon, if ever. The sixth-generation professional fisherman had just started making a living off speckled trout and redfish. Now he's part of the massive effort to mop up the spill.
"The oil gets in the water and the marshes and it stays for a while. I hope it don't last that long. I want to get back to fishing," the tanned, sunbleached 32-year-old said.
Blanchard received his captain's license just a week before the oil-rig explosion that set off the spill in April. He plans to fish again for a living, and if he can't do it in the bayous that have nourished rich seafood and a unique culture, he'll move 300 miles away to Toledo Bend Reservoir along the Louisiana-Texas line.
"I don't want to move. I love it down here," Blanchard said. "But my plans are, if they're going to destroy everything and prevent us from doing what we love to do, my plan is to move away from here."
BP is testing a new cap that has so far stopped the flow. By mid-August, it hopes to kill the well.
Once that happens, the recovery begins, but it will take several large storms to break up the oil already in the water, said Tony Wood, director of the National Spill Control School at Texas A&M-Corpus; Christi.
"It could show up in Miami next spring," he said. "It is likely that the heavier oils ... will continue to wash in for several years."
Wes Tunnell is a biologist who has studied the impacts of the 1979 Ixtoc oil spill off Mexico's coast for the Harte Research Institute at Texas A&M-Corpus; Christi. He said some of the mangrove swamps in the Yucatan Peninsula, an ecosystem similar to the one found off the Louisiana Gulf Coast, are only 80 percent recovered from that spill, and tar can still be found in some areas.
The latest spill carries its own set of unknowns, Tunnell said, including plumes being found deep in the water column and dispersants applied directly at the wellbore, a practice never done before.
Blanchard said BP workers and government officials have told him the impact will last at least two years, so instead of fishing he intends to keep working on spill-related jobs for now. He has been overseeing containment efforts by a company that has a contract with BP, and has been shuttling the Coast Guard and media to oiled areas.
Terrebonne Parish, where Chauvin is located, is rife with signs of a cleanup effort preparing for a long haul. The Coast Guard's command center has about 800 workers and is an active construction site.
The parking lot is being expanded. There are so many people in town that some are living in offshore "motels" planted on barges.
BP has opened 35 claims centers along the Gulf Coast. In Chauvin, the office is a trailer-like structure. Out front is BP's sign, the green-and-yellow sun glaring at the main road. Residents say BP has leased marinas and camp barges. Some of the contracts are for months, others for years, residents say.
BP has declined to comment on its long-term logistical plans.
For the Coast Guard, it "could be months. Could be years," said Nathan Knapp, deputy incident commander for operations at the Houma command post in nearby LaFourche Parish.
The National Oceanic and Atmospheric Administration is expecting to track the oil in all its forms — from slicks to patties to tar balls — "until there's no productive oil to pick up," said Steve Lehmann, a scientific support coordinator for the federal agency.
Unless the well starts leaking again, the slicks will rapidly disappear, possibly within a week. NOAA will then rely less on satellite images and turn more to low-flying aircraft to search for tar balls and patties, which can last for years, Lehmann said.
Copyright 2018 The Associated Press. All rights reserved. This material may not be published, broadcast, rewritten or redistributed. We strive to uphold our values for every story published.