Mende, France — Alberto Contador sent a message Friday to Tour de France leader Andy Schleck: Here I come.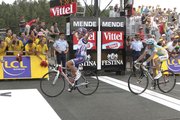 The two-time Tour champion dropped the Luxembourg rider on the steep final climb of the 12th stage, the Spaniard's first bold attack of the race gaining him crucial seconds in the title chase.
Joaquin Rodriguez, a Spaniard with the Katusha team, got stage-win glory by edging Contador in a two-man sprint at the finish of the 131-mile course from Bourg-de-Peage to Mende.
Contador was content to cut 10 precious seconds from his deficit to Schleck and was 31 seconds behind after the stage. Samuel Sanchez of Spain was a distant third, 2 minutes, 45 seconds.
The race has shaped up as a duel between Contador and Schleck, who are seemingly unparalleled in the climbs — and the Pyrenees await as the arena where their rivalry will play out beginning Sunday.
NBA
Miller deal formalized with Heat
Miami — Once Mike Miller's deal with Miami finally got completed Friday, the Heat moved quickly to add another pieces to their dramatically changed roster.
The Heat landed a pair of centers, re-signing restricted free agent Joel Anthony and also inking second-round draft pick Dexter Pittman from Texas. Anthony has spent three seasons with the Heat, mostly as a defensive-minded reserve. Pittman was the 32nd pick in last month's draft.
Celtics bring back guard Robinson
Boston — The Celtics agreed in principle with Nate Robinson on a new contract, a team official told the Associated Press on Friday.
The deal reunites the 5-foot-9 guard with Glen "Big Baby" Davis on a Boston bench that provided an important contribution during last year's run to the NBA finals.
The Boston Herald reported that Robinson will get $4 million a year for two seasons.
Agent: Brewer headed to Chicago
Chicago — The agent for Ronnie Brewer confirmed Friday the guard has agreed to a three-year contract with the Chicago Bulls.
Woman suspect in stolen pendant
Wadsworth, Ohio — A woman who tried to sell a $10,000 pendant stolen from a LeBron James business partner is a suspect in the case, police said.
The police incident report obtained Friday identified Vaneisha Robinson, 19, of Akron, as a suspect in the receiving stolen property investigation but didn't elaborate. No immediate arrests were made, and police didn't immediately return calls Friday.
Magic match Bulls' offer on Redick
Orlando, Fla. — In a move that highlights his remarkable NBA turnaround, the same Orlando Magic team that once benched J.J. Redick shelled out $19 million Friday to retain the shooting guard. They matched a three-year offer sheet that the Chicago Bulls made for Redick last week that could cost Orlando much more.
College administration
Pump charity off-limits to coaches
The NCAA has barred college basketball coaches from financial relationships with the Harold Pump Foundation, a charity run by college basketball power brokers David and Dana Pump, Yahoo! Sports reported Friday.
Yahoo! Sports reports on its website that "due to the Pumps' financing of elite summer prep basketball teams, the NCAA has designated the brothers as 'Individual(s) associated with a prospect,' and made financial relationships impermissible between the Pumps' foundation and Div. I schools and their coaching staffs."
This will be the last summer the NCAA allows coaches and athletic directors to attend the annual Pump charity golf fundraiser in California.
The Pump brothers have been running the foundation since 1999. It was established in honor of their father Harold, a victim of cancer. A Yahoo! Sports investigation found the Pump Brothers played a role in the basketball ticket scandal at Kansas University. The brothers issued a statement saying they "have always conducted our business operations in an ethical, legal, and professional manner."
Two UNC players interviewed
NCAA investigators looking into the University of North Carolina's football program have interviewed defensive tackle Marvin Austin and wide receiver Greg Little, as reported by the Charlotte Observer on Friday.
Sources familiar with the situation have said the two players were interviewed in connection with possible improper involvement with sports agents. North Carolina athletic director Dick Baddour confirmed Thursday that the NCAA had been to Chapel Hill to speak with athletes at the school, but declined to provide further details.
Olympics
U.S. relay runners win back medals
Geneva — American sprinters who were stripped of their 2000 Olympics relay medals because teammate Marion Jones was doping won an appeal Friday to have them restored.
The Court of Arbitration for Sport ruled in favor of the women, who had appealed the International Olympic Committee's decision to disqualify them from the Sydney Games.
Copyright 2017 The Associated Press. All rights reserved. This material may not be published, broadcast, rewritten or redistributed. We strive to uphold our values for every story published.