Of all the thousands and thousands of conversations that have taken place over the past 30 years or so among Noon Group golfers at Alvamar Country Club, one stands above the rest as the defining moment of the unofficial fraternity.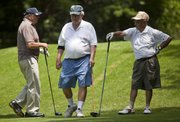 It took place not on the course, the card room or the bar, rather at a funeral for a Friend.
One day he played with the Noon Group and won all his bets. The next day he took his life with a gun, leaving Vickie Friend, his wife of 24 years, a widow.
At his 2006 funeral, a flock of Noon Group golfers informed Vickie that they had held a meeting and decided that every afternoon from noon to 4 or 5, Vickie's name was Vic, she was one of the guys. Vic the Stick was born. The moniker Stick is reserved for skilled golfers, and it fits her.
"They were my support group," Friend said before teeing off Tuesday on her way to firing an 80. "I honestly don't know if I would have made it without them. They saved my life."
She explained her options: Stay in bed and let depression consume her or force herself onto her feet and into her car for the drive from Lenexa to Lawrence. She took the latter path and has been grateful for the friends she leaned on in a time of need every day since.
Friend, the reigning women's club champion, didn't swing a golf club until 1983 and only then because she invited Al to watch her play racquetball when they were living in Manhattan.
"My partner was hitting me on the rear end for good shots," Vickie said. "After the match, Al said he wasn't going to have that. He said no more racquetball. He was 13 years older than I was, and when I talked to my mother, she explained he was from a different era and I needed to grow up."
She brokered a deal. She would give up racquetball if he would teach her how to play golf. He agreed as long as she followed his three-step advice: 1. Don't ever take instruction from anybody else; 2. Do everything he said to do to learn how to swing a club; 3. Never fuss.
"He took me to Manhattan Country Club, bought me an outfit and clubs and locked them in a closet," she said.
Before getting to touch a club, she had to practice grooving an inside-out swing with her weight on her heels. Several hours every day for three weeks, she practiced grooving a swing in their basement, sometimes with him watching. For the next step, he gave her a 3-wood and some wiffle golf balls and told her to hit them around the back yard.
"I'm a very trusting person," she said. "I shut up and listened. No fussing."
Finally, Al deemed Vickie ready for play and laid out her outfit on their bed, putting a cap on top of a shirt, which fed into pants, which were tucked into golf shoes.
"He took me to the club and said, 'The first thing you have to do is have a cup of coffee.' I don't know why, but that's what he said," she remembered. "I had never hit a golf ball before. My first swing, I hit it 180 yards right down the middle. Next thing he does is collect money from everyone out there. That was Al. He was a gambler. He had bet everyone out there that he could teach me without the help of a pro to hit it farther than any (women) out there."
Now that Al is gone, Vickie — truth be told the Noon Group golfers call her Vickie, not Vic — has no choice but to take pointers from the guys when she falls into a slump, such as the putting woes from which she recently emerged.
She plays from the women's tees, which is probably not a bad idea since that provides an excuse for those who lose to her.
Wayne Postoak, who celebrated his 72nd birthday Tuesday with the Noon Group by blasting drives, such as the one on No. 9 that he carried over the trees, across the creek and onto the middle of the fairway, skillfully avoiding the pond, serves as the unofficial captain and historian of the group.
"We haven't turned anyone away in 30 years," Postoak said. "In the winter, we head out not knowing whether we're going to play golf or cards."
Postoak said he, George Bocquin, John Boeugher, Bobby Williams, Doug Shade and the deceased Larry Sigler and Don Wetzel started the Noon Group. Recently, the group suffered a particularly tough loss when regular Curt Kastl died of a heart attack July 3 at the age of 58. Others have moved away. North Carolina basketball coach Roy Williams and Vanderbilt coach Kevin Stallings were among those who played rounds as part of the group.
Dick Logan, who retired 18 years ago from FMC Corp, has played with the Noon Group regularly since then.
"Starting the day after I retired, I played 63 consecutive days," Logan said.
During his 22 years answering the pro shop telephone at Alvamar Country Club, head pro Randy Towner has been asked some head-scratchers, but the best just might have come from a golfer who had heard so much about the fabled Noon Group and thought he just might like to join them.
"When's the Noon Group tee off?" the caller asked.
Towner had to bite his sarcastic tongue and told the caller that the Noon Group tees off at noon. Who knew? In fairness, the group tees off at 11:30 on weekends.
"It's like early America, a melting pot of a lot of different groups," Towner said. "Half of them wouldn't even know the last names of the people they play with."
Not necessary. From noon to 4 or 5 every day, all golfers in the group have the same last name as Vic the Stick.
Copyright 2018 The Lawrence Journal-World. All rights reserved. This material may not be published, broadcast, rewritten or redistributed. We strive to uphold our values for every story published.