He was baseball's bombastic Boss.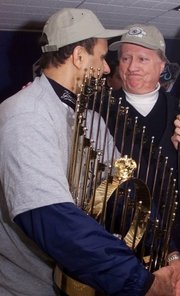 He rebuilt the New York Yankees dynasty, ushering in the era of multimillion-dollar salaries and accepting nothing less in return than World Series championships.
He fired managers. Rehired them. And fired them again.
He butted heads with commissioners and fellow owners, insulted his players and dominated tabloid headlines — even upstaging the All-Star game on the day of his death.
George Michael Steinbrenner III, who both inspired and terrorized the Yankees in more than three decades as owner, died Tuesday of a heart attack at age 80.
"He was and always will be as much of a New York Yankee as Babe Ruth, Lou Gehrig, Joe DiMaggio, Mickey Mantle, Yogi Berra, Whitey Ford and all of the other Yankee legends," baseball commissioner Bud Selig said.
Once reviled by fans for his overbearing and tempestuous nature, Steinbrenner mellowed in his final decade and became beloved by employees and rivals alike for his success.
Steinbrenner was taken from his home to St. Joseph's Hospital in Tampa, Fla., and died about 6:30 a.m, a person close to the owner told The Associated Press. The person spoke on condition of anonymity because the team had not disclosed those details.
"George was a fierce competitor who was the perfect fit for the city that never sleeps — colorful, dynamic and always reaching for the stars," former President Bill Clinton said.
Yankees captain Derek Jeter added: "He expected perfection."
In 371⁄2 years as owner, Steinbrenner whipped a moribund $10 million team into a $1.6 billion colossus that became the model of a modern franchise, one with its own TV network and ballpark food business.
Under his often brutal but always colorful reign, the Yankees won seven World Series championships, 11 American League pennants and 16 AL East titles, going on spectacular spending sprees that caused Larry Lucchino, president of the rival Boston Red Sox, to dub Steinbrenner's Yankees the "Evil Empire."
He moved the Yankees from their tradition-rich "House that Ruth Built" into a new $1.5 billion Yankee Stadium. Call it the "House the Boss Built." He appeared there just four times: the April 2009 opener, the first two games of last year's World Series and this year's home opener, when Jeter and manager Joe Girardi went to his suite and personally delivered his seventh World Series ring.
"He was very emotional," son Hal Steinbrenner said then.
Steinbrenner's larger-than-life outbursts transcended sports and made him a pop culture figure whose firings were parodied on the TV comedy "Seinfeld" and even by Steinbrenner himself in commercials.
"George was The Boss, make no mistake," said Berra, the Hall of Famer who ended a 14-year feud with Steinbrenner in 1999. "He built the Yankees into champions, and that's something nobody can ever deny. He was a very generous, caring, passionate man. George and I had our differences, but who didn't? We became great friends over the last decade and I will miss him very much."
Steinbrenner's death, about 14 hours before the first pitch of the All-Star game in Anaheim, Calif., was the second in three days to rock the Yankees. Bob Sheppard, the team's revered public address announcer from 1951-07, died Sunday at 99.
A video tribute was shown and players bowed their heads during a moment of silence before the national anthem was played at Angel Stadium. Jeter and the Yankees wore black armbands, and the U.S., Canadian and California flags were lowered to half-staff.
New York was 11 years removed from its last championship when Steinbrenner, then an obscure son of an Ohio shipbuilder, headed a group that bought the team from CBS Inc. on Jan. 3, 1973, for about $8.7 million net.
Forbes now values the Yankees at $1.6 billion, trailing only Manchester United ($1.8 billion) and the Dallas Cowboys ($1.65 billion).
Former commissioner Fay Vincent, who fought many battles with Steinbrenner, said his legacy would be turning the Yankees "into an absolute gold mine and a monster of power and success in baseball."
"He was one of the few who realized this was an iconic franchise, and he could turn it into something really special, and he did," Vincent said.
Steinbrenner ruled with obsessive dedication to detail — from trades to the airblowers that kept his ballparks spotless. When he thought the club's parking lot was too crowded, Steinbrenner stood on the pavement — albeit behind a van, out of sight — and had a guard check every driver's credential.
But he also tried to make up for his temper with good deeds and often-unpublicized charitable donations.
His rule was interrupted by two lengthy suspensions, including a 15-month ban in 1974 after pleading guilty to conspiring to make illegal contributions to the re-election campaign of President Richard Nixon. Steinbrenner was fined $15,000 and later pardoned by President Ronald Reagan.
He also was banned for 2 1⁄2 years for paying self-described gambler Howie Spira to obtain negative information on outfielder Dave Winfield, with whom Steinbrenner was feuding.
Through it all, Steinbrenner lived up to his billing as "The Boss," a nickname he clearly enjoyed as he ruled with an iron fist. While he lived in Florida in his later years, he was a staple on the front pages of New York newspapers with his tirades.
Steinbrenner was in fragile health for the past 6 1⁄2 years, resulting in fewer public appearances and pronouncements. He fainted at a memorial service for NFL great Otto Graham in December 2003, appeared weak in August 2006 when he spoke briefly at the groundbreaking for the new stadium, and became ill while watching his granddaughter in a college play in North Carolina that October. At this year's spring training, he used a wheelchair and needed aides to hold him during the national anthem.
As his health declined, Steinbrenner let sons Hal and Hank run more of the family business. He turned over formal control of the Yankees to Hal in November 2008.
Dressed in his trademark navy blue blazer and white turtleneck, however, he was the model of success.
"He was truly the most influential and innovative owner in all of sports," former New York Mayor Rudy Giuliani said. "He made the Yankees a source of great pride in being a New Yorker."
New York City Mayor Michael Bloomberg ordered flags to half-staff at City Hall Plaza.
Copyright 2018 The Associated Press. All rights reserved. This material may not be published, broadcast, rewritten or redistributed. We strive to uphold our values for every story published.