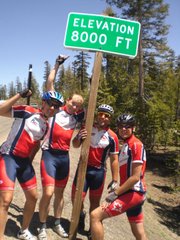 FOLLOW THE TREK
If you would like to follow Jeff Serbus on his ride or donate to Push America, go to www.myjoh.org.
After riding a bicycle 1,700 miles across the country, with an additional 2,300 miles to go, Jeff Serbus has every right to complain.
He's had a total of three days off the bike since leaving San Francisco on June 17, his bicycle seat leaves a lot to be desired, he sleeps at night on church basement floors, and, still, he's upbeat.
"I love it out here," he says, from an overnight stop in McCook, Neb.
Serbus, 28, a Free State High School and Kansas University graduate, is on the Journey of Hope, an annual fundraising trek sponsored by the Push America program of the Pi Kappa Phi fraternity.
"We were founded in 1977, originally as an organization that built accessible play units for children with disabilities," says Adam Phillips, director of marketing and public relations for Push America. "As the years went on, we expanded our reach."
In 1987, Bruce Rodgers, then a Pi Kapp at Stetson University (DeLand, Fla.), decided to ride his bike across the country by himself to raise awareness for all people with disabilities.
"He was the inspiration for Journey of Hope, which started the next year," Phillips says.
This summer, Serbus cycles with one of three teams — each with 26 cyclists and a crew of five — wending their way across country. Participating members are asked to meet a fundraising minimum of $5,000 for cyclists and $2,500 for crew members. Serbus has raised $5,500 so far.
"I was on the crew in 2002," Serbus recalls. "One of the guys who drove the van and brought all the water and the stuff from place to place. Originally, I just did it as a way to see the country. But, after that, I started getting involved working with people with disabilities. The next summer, I worked at Camp Sunnyside in Des Moines, an Easter Seals camp, and just had a great time. I'm doing the ride for the people I met there."
Serbus also met a fellow camp counselor, Laura, who would later become his wife. She returned to work at the camp this summer and will reunite with her husband when his team rides into town in the next week or so on a "friendship visit," the outreach component of the Journey of Hope.
"Along the way, we stop in places that serve people with disabilities. If we can, we help out, work with their clients. Sometimes, they'll have dances and things. Most of the time, we'll give the facility a grant — like $750 — and we can actually see where the money is going. It makes it a lot more personal."
"It will be great to see Camp Sunnyside and Laura," Serbus says. "And it's almost our sixth anniversary, so we can work a little romance into the trip."
Though Serbus downplays it, the cross-country trek has been grueling. On one day, the team logged 95 miles, crossing not one, but three mountain passes.
"It was going into Lake Tahoe, Calif.," Serbus remembers. "It was a combination of extreme elevations and extreme distance, which made it a really bad day. It was early in the trip, too, and most of us weren't used to the really long rides. I felt like I had the flu the next day."
And though it's a long road stretching out before him (the team doesn't arrive at the finish line in Washington, D.C., until Aug. 14), Serbus remains gung-ho.
"Every day is a new experience, and I love it. The main problem is getting used to that seat," he adds. "I'd like to have something more comfortable."
Copyright 2018 The Lawrence Journal-World. All rights reserved. This material may not be published, broadcast, rewritten or redistributed. We strive to uphold our values for every story published.