Anaheim, Calif. — David Ortiz believes his power swing is all the way back, and now Boston's beloved slugger has a trophy to prove it.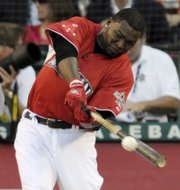 The Red Sox slugger won his first Home Run Derby title Monday night, hitting 11 homers in the final round to beat Florida's Hanley Ramirez at Angel Stadium.
With plenty of spark in the powerful swing that once made him one of the majors' most feared hitters, Big Papi put a relentless series of drives into the elevated stands above the right-field wall. Ortiz hit 21 homers in the first two rounds of his fourth derby before holding off Ramirez to emerge from a field missing most of baseball's top power hitters.
Ortiz triumphantly held up the trophy featuring two crossed bats. He dedicated his performance to former major-league pitcher Jose Lima, a fellow Dominican Republic native who passed away in May after paramedics found him in cardiac arrest at his Southern California home.
"I wanted to come here and make sure the fans enjoy what we do," Ortiz said.
Ramirez matched Ortiz's 21 homers in the first two rounds, pulling most of his shots over the left-field wall. But Ortiz became just the second slugger to reach double digits in the final round, while Ramirez managed only five.
Milwaukee's Corey Hart and Detroit slugger Miguel Cabrera were eliminated in the second round, with Hart failing to connect after hitting 13 in the opening round. Ortiz finished with 13 in the second round after getting off to a fast start.
With Yankees bench coach Tony Pena feeding fastballs straight into his wheelhouse, Ortiz coolly outslugged his younger competitors to win in his first derby appearance since 2006. He reached the semifinals that year and in 2005.
He hadn't been back in the field since — and Ortiz's entire career was on the skids after he struggled in 2009 and again in April. Boston's longtime star is back on his game with 18 homers and 57 RBIs this season, earning his sixth All-Star berth.
Copyright 2018 The Associated Press. All rights reserved. This material may not be published, broadcast, rewritten or redistributed. We strive to uphold our values for every story published.