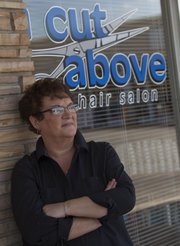 "When I graduated from Lawrence School of Hairstyling in 1969, teachers said we'd probably enjoy about 10 good years in the business," says Sandy Deshazer.
"They warned us physical injuries were part and parcel of being in the profession, and we'd have to find something else to do."
Deshazer ignored the prediction. She's just celebrated 41 years as a hairstylist, 28 as owner of her own salon, A Cut Above, 711 W. 23rd St. She has no plans to retire.
She attributes her longevity as a stylist to the absence of the usual work-related hand and back injuries, support and the work ethic learned growing up in Dennison, Iowa.
"I started working on my parents' farm when I was 9 years old," she says. "I've worked hard all my life and haven't given it a second thought."
She graduated from Jefferson High School, Iowa, in 1968, moved to Lawrence to live with one of her five brothers and his wife, and decided to attend beauty school because she thought it'd be a fun career.
Her first job was at Helen's Beauty Salon (now the Raven Book Store.) She married her husband, Joe, in 1969, shortly after meeting him on a blind date, and moved to Eudora. She worked in a Eudora salon for three years before returning to work in Lawrence at the present salon then known as Blane's.
When owner Blane Ball decided to sell in 1982, Joe encouraged her to buy the salon.
"We knew it would be hard work but decided to take the risk," she says.
"We changed the name, and Joe set about remodeling the place. It took three years to complete because we paid for things as we went. I kept cutting hair as the remodeling went on around us."
She initially employed up to five staff but now rents booths to other stylists because that's easier to manage, but she still works up to 50 hours a week.
"If it wasn't for Joe's energy, persistence and compassion, I couldn't have sustained the business," she says simply.
"To be a salon owner you need to want it in your heart and soul. It requires really long hours, constant standing, a lot of flexibility and humor, and you need to be constantly balancing work and family needs."
She's seen hairstyles come and go over the past 41 years.
"Back-combing was all the rage in the late '60s and early '70s, and oh, boy, can I backcomb," she says with a laugh.
"Styles tend to be recycled. Different versions of the shag are always in, and I'm still asked for famous people styles like the Dorothy Hamill or the Farrah Fawcett. I try to give people what they ask for, but I don't do funky."
She says she's had a blessed life with a great family and a loyal clientele.
"My oldest customer is 91, and the youngest one is 4," she says.
"Some clients have been coming to me for over 37 years, and now they're bringing their grandchildren to me. They're my extended family."
Copyright 2017 The Lawrence Journal-World. All rights reserved. This material may not be published, broadcast, rewritten or redistributed. We strive to uphold our values for every story published.