Some entered just to beat him, others came from out of nowhere, and still more went after him with youthful exuberance.
In the end, after two days of the Lawrence Amateur Golf Association's annual city tournament, Conrad Roberts continued his reign, winning the LAGA city title in the championship flight for the fifth straight year.
"It was a lot of fun, but Conrad's good," said Baker University sophomore Mason Dick, the Round One leader who fell to fourth with an 81 on Sunday. "I've decided that he'll win this thing until he's 65. Thirty in a row."
Added Roberts' friend and foe, Tyler Cummins, who made sure to enter this year with an eye on ending Roberts' streak at four: "He's the king for one more year."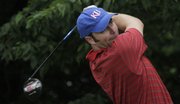 After shooting a 2-under 70 on Saturday at Eagle Bend, Roberts, the former Kansas University golfer, fired a 1-over 73 on Sunday at Alvamar public to win the title by three strokes over runner-up Cummins (70-76—146). Spencer Wilson (73-76—149) slipped into third place, and Dick (69-81—150) was fourth.
Roberts, 35, who described himself as "clueless on the greens," was not overly thrilled with his two-round total of 143. What he was thrilled with, however, was finding a way to win after a grueling second round.
"It was a day of patience," said Roberts, who, along with 60 or so other golfers, endured a two-hour rain delay followed by rising humidity Sunday. "It's a relief to be done with it, and I'm thrilled that I won."
Cummins, Dick, Roberts and Adam Hougland played in the final group Sunday, and Hougland and Dick showed from the start that they were ready for the challenge by opening the day with birdies.
"They came out hot," Roberts said.
In the end, though, Roberts' steady approach outlasted the up-and-down rounds turned in by Dick and Hougland.
Said Dick of his start: "I should've known it wasn't my day when I birdied the first hole. I thought that was a little ominous."
Cummins made a pact with Roberts on Saturday night to sport his old Kansas State gear for the final round — to which Roberts responded by wearing his old KU duds.
Cummins struggled from the start and never recovered. He shot 40 on the front nine and immediately fell a few strokes off the lead. Birdies at No. 7 and No. 10, including a chip-in on the seventh, put him within three of Roberts with eight to play.
"Once I did that, I thought I had a shot," Cummins said. "But I really made it easy for him by shooting a 40 on the front."
Although the birdies put Cummins back into contention, they were no match for Roberts' string of pars that secured the victory.
"Once I saw Tyler's start, my goal was to make par on every hole," Roberts said. "The golf course played extremely long today, so I figured if I did that, I'd have a pretty good chance to win."
With Roberts playing for par for much of the day, that put Cummins in a position of desperation. On the par-5 17th, Cummins elected to go for the green in two from about 240 yards out. He missed left, and, with Roberts playing a perfect drive, a beautiful layup and an approach to 15 feet, the miss essentially sealed his fate.
"I tried to make it interesting by going for the green," Cummins said. "But, no, that wouldn't have been the play there on a normal day."
The only thing normal about Sunday, amid the wild weather and rough scores, was the name of the man who won the tournament. Asked where his latest triumph ranks in comparison with his previous four, Roberts said: "Right now, it's the freshest one, and it's one I can remember so I'd have to say it ranks up there pretty high. The guys I played with are all great players, and it feels good to have held them off."
Carol Rau (82-75—157) and Mike Grosdidier (68-73—141) also defended their titles successfully in the women's flight and senior championship flight, respectively. Jim Hagan (76-77—153) won the super senior's flight; Brian Edwards (81-79—160) was crowned the champion in the senior A flight; Lee York (77-83—160) slipped past Garry Fister (76-84) in a scorecard playoff to win the men's A flight; and Darrell Frank (82-81—163) claimed the title in the men's B flight.
Copyright 2018 The Lawrence Journal-World. All rights reserved. This material may not be published, broadcast, rewritten or redistributed. We strive to uphold our values for every story published.