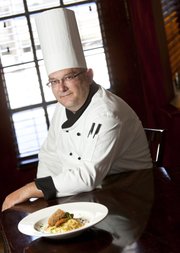 Get the dish
Are you dying to get your hands on the recipe for your favorite local restaurant dish? Send your request to staff writer Cathy Hamilton at = chamilton@ljworld.com, or call her at 832-6319, and she'll try her darndest to get it for you.
Juli Frank of Lawrence was so thrilled when the Journal-World published the recipe for Free State Brewing Company's Cheddar Ale Soup, she wrote us requesting instructions to make another favorite local dish, from TEN at the Eldridge Hotel, 701 Mass.
"My husband and I love to eat at TEN and have been trying to eat a few meatless meals each week," Frank says. "I really like portobello mushrooms, and I love chicken piccata, so when I saw the Portobello Piccata on the TEN menu, I had to try it."
"My sister, a vegetarian, was with me the first time I ordered it," she explains. "We both thought it was fantastic. She will be as excited as I am to get this recipe."
TEN executive chef Chris Wofford, who likes to offer at least four vegetarian options on his menus, says the dish is his rendition of classic Veal Piccata.
"I just substituted portobellos in place of veal," Wofford says. "I often use them in place of meat because they have a meaty/savory flavor that is referred to as 'umami.' The dish is not currently on the menu, as I don't like heavy items in the summer. It should return for the fall/winter menu."
Portobello Piccata
Egg wash:
4 whole eggs
1/4 cup cream
2 cups bread crumbs
1/2 bunch parsley
1 1/2 cups flour
Salt and pepper
Sauce:
2 pints cream
Juice of 2 lemons
1 1/2 tablespoons capers
Salt to taste
1/2 pound apellini pasta
Oil, enough to fill 1/4 inch of sauté pan
4 portobello mushrooms, caps only
Remove gills and stems from portobello mushrooms and wash off dirt. Combine the cream with the eggs. Chop parsley and combine with bread crumbs. Add salt and pepper to flour. Dip each portobello cap in flour, then egg wash, then bread crumbs. Set aside.
Pour cream into saucepan and reduce by half. Add lemon juice, capers and salt. Keep on low heat. Cook capellini to al dente.
Pour enough oil in sauté pan to come the sides by 1/4 inch. Let oil become hot. Place portobello in oil and fry until golden and crispy. Remove from oil and cut into thirds.
Place capellini in center of bowl, pour sauce around pasta and place mushroom on top. Serves 4.
Copyright 2018 The Lawrence Journal-World. All rights reserved. This material may not be published, broadcast, rewritten or redistributed. We strive to uphold our values for every story published.