Shiloh Rules
When: 7:30 p.m. Friday-Sunday and July 22-24
Where: Stage Too!, Murphy Hall
Tickets: $12 public, $11 for seniors and KU faculty and staff, $10 for KU students. Call 864-ARTS.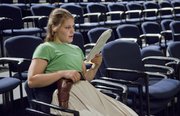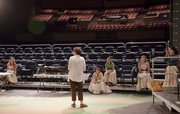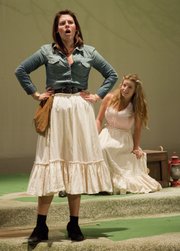 The second and final University Theatre production of the summer will give audiences a little of everything — humor, action, emotion and drama.
"Shiloh Rules" has a six-woman cast and takes place at a Civil War re-enactment at the Shiloh Battlefield Park in Tennessee.
"There are a lot of history plays, but this was such a wonderful take on history because it wasn't just a history play — it was about the way we still live history," says Mechele Leon, director of the play and associate professor of theater at KU.
The play's diverse characters — two Confederate refugees, two Union nurses, a black park ranger and a vendor — give unique perspectives on re-enactments, war and race during the Civil War and the present day from a woman's perspective while they compete for the title of "best female re-enactor."
"It's interesting because I really like the all-female idea of Civil War re-enactment, because the female influence in the Civil War is relatively small so it gives a perspective that the Lawrence community probably wouldn't see," says cast member Elizabeth Elliott, a May 2010 graduate of KU.
Leon and the cast spent several weeks researching for the play. Leon even visited Shiloh Battlefield Park and attended a Civil War re-enactment in Kentucky earlier this year, looking for ways to add to the atmosphere of the re-enactment in the play.
Elliott, who plays the head Union nurse, also said she read about the Battle of Shiloh, Civil War re-enactments, nurses during the Civil War and women from that era in general.
Elliott said the action and mood of the play were a welcome challenge for her and everyone involved in the play.
"It's been a struggle — a good struggle — to kind of attempt to find a different part of me that can embody (my character)," Elliott says.
Leon said the play should connect with audiences because the Civil War and re-enactments are an important part of history in Lawrence and the surrounding areas.
"I think it will be really enjoyable because people in our audiences in Kansas certainly many are aware in re-enactments and many are involved in re-enactments, and this is such a touching and humorous look at re-enactments," Leon says.
Elliott said the audience will not only be entertained by the various themes but also the action on stage.
"There's a lot more action," Elliott says. "It's taking place during a battle, so you're going to hear cannons blasting, you're going to hear thunder and see lightning. It's going to be a sensory explosion. It's action-packed and will keep the audience on its toes."
The play will take place at 7:30 p.m. July 16-18 and 22-24 on Stage Too! at KU's Murphy Hall. Tickets are $12 for the general public, $11 for senior citizens and $10 for students. Tickets can be purchased by calling the KU Theatre Ticket Office at 864-3982 or online at www.kutheatre.com.
Copyright 2018 The Lawrence Journal-World. All rights reserved. This material may not be published, broadcast, rewritten or redistributed. We strive to uphold our values for every story published.