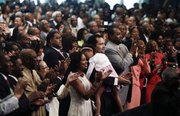 Kansas City, Mo. — First lady Michelle Obama encouraged the NAACP to help fight the growing child obesity rate, just like it fought slavery and discrimination.
"If we don't do something to reverse this trend right now, our kids won't be in any shape to continue the work begun by the founders of this great organization," she said.
Her comment drew applause from the crowd of 4,000 people Monday during the NAACP's 101st annual convention in the Kansas City Convention Center.
Obama spoke about her "Let's Move" campaign, a national movement to raise healthier children. One in three American children is overweight or obese. This is the first generation in history that is on track to live shorter lives than their parents.
"This issue isn't about how our kids look," she said. "It's about how our kids feel. It's about their health and the health of our nation and the health of our economy. There is no doubt that this is a serious problem and it's one that is affecting every community across this country."
Michelle Obama on kid food choices
Obama, 46, said Americans live very differently today than when she grew up. For example, she walked or biked to school. She didn't ride in a bus or car.
"We went to neighborhood schools around the corner. So many of us had to walk to and from school every day — rain or shine — I know you've told that story before," she said, which drew laughter.
She said they had recess and gym class, something that's been a target of budget cuts.
"When we got home in the afternoon, there was no way we would be allowed to lie around watching TV," she said. "Our parents made us get up and play outside. And we would spend hours playing outside."
When it came to mealtime, her family sat down at a table and she and her brother ate what was on their plates or they went hungry.
"There was always a vegetable on the plate," she said, adding that desserts, candy and soda were left for special occasions.
"Back then, without any expert advice or without spending too much money, we managed to lead pretty healthy lives," she said.
Four goals
The "Let's Move" campaign has four goals and she talked about each of them:
• Empowering parents and caregivers. New federal legislation will require restaurant chains to post the amount of calories in foods. Officials are working for better food labels and with pediatricians to screen children for weight issues.
• Providing healthy food in schools. Obama said 31 million American children are participating in school meal programs and consuming more than half of their calories at school. The campaign wants to cut the sugar, salt and fat and add fruits, vegetables and whole grains.
• Improving access to healthy, affordable foods. She said 23.5 million Americans and 6.5 million children live in "food deserts" or neighborhoods without a supermarket. Obama said it's not convenient for these families to buy a head of lettuce or fruits; often they resort to foods in nearby gas stations. The campaign's goal is to eliminate these deserts in seven years.
• Increasing physical activity. The campaign's goal is to increase the number of children walking and biking to school by 50 percent in five years.
Marah Williams, 16, of Atlanta, was among the attendees. She said her school's vending machines are full of junk food, and the cafeteria serves items like cinnamon rolls. She also said her school doesn't have a gym.
"I am serious. We don't even have a gym," she said.
Personal responsibility
Obama emphasized that the government can only do so much.
"This is about families taking responsibility," she said. "It's about small changes that add up, like taking the stairs instead of the elevator, or walking instead of riding. ... It can be something as simple as turning on the radio and dancing with your children in the middle of the living room."
Obama said adults have to lead by example. If a parent is obese, there's a 40 percent chance the child will be obese.
"We owe it to all of those who come before us to ensure that all of those who come after us — our children and their children — have the strength and the energy to ...," her words were drowned by applause as people rose to their feet.
She asked loudly, "Will you move with me?"
The crowd clapped louder, and many were shouting, "Yes! Yes! Yes!"
Copyright 2018 The Lawrence Journal-World. All rights reserved. This material may not be published, broadcast, rewritten or redistributed. We strive to uphold our values for every story published.