Oakmont, Pa. — Paula Creamer wondered a few months ago if she would ever play golf again the way her badly injured left thumb was hurting.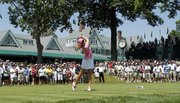 What she couldn't have possibly guessed is she would play like this.
Creamer shed the title of being the best women's golfer to not win a major, never wavering during a four-shot victory Sunday at the U.S. Women's Open in which she steadily put away a field that couldn't match her confidence or consistency. Creamer started with a three-stroke lead, then never let it go below two shots during a 2-under 69 that gave her a 3-under 281 for the tournament.
Golf
Stricker repeats at John Deere
Silvis, Ill. — Steve Stricker won the John Deere Classic for the second straight year Sunday, holding on for a two-shot victory after leading by seven strokes.
Stricker came through with a critical birdie after driving into the trees on No. 17 and closed with a 1-under-par 70, just enough to beat Paul Goydos.
Tomasulo stages furious rally
Clarksburg, Ontario — Peter Tomasulo shot a 10-under-par 61 Sunday to come from eight shots back and win the Wayne Gretzky Classic by one stroke over rookie Keegan Bradley. The 28-year old Tomasulo rallied on the final day, racing by the leaders to finish with a 24-under-par total of 261 at the Georgian Bay Club.
Molinari holds off Clarke
Luss, Scotland — Edoardo Molinari of Italy claimed his first European Tour victory at the Scottish Open, shooting a 3-over 74 to beat Darren Clarke by three shots.
College football
Richt suspends two UGA players
Athens, Ga. — Georgia coach Mark Richt suspended two players the day after their arrests on alcohol-related charges.
Sophomore tailback Dontavius Jackson will be suspended for a minimum of six games, while sophomore split end Tavarres King will be suspended for at least one game by Richt.
NFL
Vick misses own golf event
Tucker, Ga. — Michael Vick was a no-show at his celebrity golf tournament Sunday after probation officials restricted travel for the Philadelphia Eagles quarterback this weekend.
NBA
Nets agree to terms with Farmar
East Rutherford, N.J. — Guard Jordan Farmar of the NBA champion Lakers has agreed to join the Nets. The agreement is contingent on Farmar passing a physical.
Wall scores 24 in pro debut
Las Vegas — Rookie John Wall scored 24 points and handed out eight assists in his pro debut for the Washington Wizards during a Las Vegas Summer League game Sunday.
Jesse Jackson criticizes owner
Chicago — Jesse Jackson criticized Cavaliers owner Dan Gilbert on Sunday, saying Gilbert sees LeBron James as a "runaway slave" and that the owner's comments after the free-agent forward decided to join the Miami Heat put the player in danger.
Shortly after James announced his decision last week, Gilbert fired off an incendiary letter to Cleveland's fans, ripping the 25-year-old and promising to deliver a title before James wins one.
Wallace set to sign with Detroit
Detroit — Ben Wallace told the AP on Sunday he heard from a lot of teams, but agreed to a two-year deal to stay with the Detroit Pistons. Wallace, who expects to take a physical soon, will make $1.9 million each season.
Auto racing
Dillon wins NASCAR Trucks race
Newton, Iowa — Rookie Austin Dillon held off Johnny Sauter in a green-white-checkered finish and picked up his first career win at Sunday's NASCAR Trucks Series race in Iowa.
Driver killed in crash
Kent, Wash. — A drag-racing driver has died after he crashed at the NHRA Northwest Nationals at Pacific Raceways outside Seattle.
Sixty-year-old Mark Niver of Phoenix was competing in the Top Alcohol dragster class in the NHRA Lucas Oil Drag Racing series.
The NHRA says it's investigating Sunday's accident and is extending its sympathies to Niver's family.
Baseball
U.S. tops World in Futures Game
Anaheim, Calif. — Hank Conger, a Los Angeles Angels prospect at catcher, hit a three-run homer, and the United States snapped a three-year losing streak in the Futures Game with a 9-1 victory over the World squad Sunday.
Kansas City Royals prospect Eric Hosmer (first baseman) doubled among his four hits and drove in two runs for the U.S.
Revered Yankees PA man dies
New York — Bob Sheppard, whose stylish, elegant stadium introductions of New York Yankees from Joltin' Joe to Derek Jeter spanned more than a half century and earned him the nickname "The Voice of God," died Sunday. He was 99.
Sheppard, a gentle man who spoke with the sonorous authority of a giant, died at his Long Island home in Baldwin with his wife, Mary, at his side, the Yankees said.
Copyright 2018 The Associated Press. All rights reserved. This material may not be published, broadcast, rewritten or redistributed. We strive to uphold our values for every story published.