Photo Gallery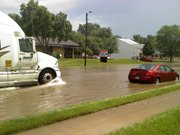 July 11 Thunderstorms
A thunderstorm moved through Lawrence just before noon causing minor street flooding on Sunday, July 11, 2010
Kansas weather updates, via Twitter
The severe thunderstorm watch for Douglas County has expired early for Douglas County, according to the National Weather Service. The watch included numerous neighboring counties:
Douglas
Shawnee
Jefferson
Wabaunsee
Brown
Marshall
Nemaha
Jackson
Pottawatomie
Heavy rain caused minor street flooding around town during a severe thunderstorm Sunday morning. Reports came through via Twitter of high water at Fifth and Wisconsin and 23rd and Ousdahl streets.
According to Westar Energy's website, less than five customers in Douglas County are without service.
Do not drive your car into areas where the roadway is covered with water. The water may be too deep to allow your car through safely.
Copyright 2018 The Lawrence Journal-World. All rights reserved. This material may not be published, broadcast, rewritten or redistributed. We strive to uphold our values for every story published.