Cleveland — LeBron James is being dropped off a building.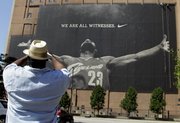 And his jerseys, at least the ones not on fire, are almost being given away.
Workers began dismantling the 10-story-tall iconic image of James on a mural in downtown Cleveland on Saturday. The billboard has dominated the city's skyline for years but is being removed after the superstar announced he was leaving the Cavaliers for the Miami Heat.
As strips of the image of James, his arms outstretched and head thrown back after doing his pregame powder toss, began coming off, pedestrians stopped on Ontario Street to take photos and cars pulled to the side for one last look at No. 23, who has gone from hero to villain.
"We are removing the LeBron James Witness mural in downtown Cleveland and expect the process to be completed within a few days," Nike spokesman KeJuan Wilkins said in an e-mail to the Associated Press.
Wilkins said he does not yet know what the company's plans are with the gigantic sign, which includes the phrase: "We Are All Witnesses" over James' image.
On Friday, several fans gathered on the sidewalk outside the Landmark Office Tower as workers prepared to remove the billboard.
After James announced his decision to leave Cleveland as a free agent Thursday night, some irate Cavs fans feeling betrayed by the Akron native they've cheered for since he was a teenager, burned the two-time MVP's jersey. Others hurled rocks at the mural.
Elsewhere, James jerseys, so fashionable during his seven-year stay, can be found at discounted rates as merchants look to get rid of their inventories of Cleveland's career scoring leader and arguably the most celebrated pro athlete in the city's history.
At Dick's Sporting Goods in Westlake, James jerseys have been reduced to $29.99 with the store offering a further 75 percent reduction. T-shirts and other merchandise with James' face or number on it are also at bargain prices.
Businesses are also offering perks in exchange for James' jersey. At McNulty's Bier Market in Ohio City, anyone turning in a James jersey or T-shirt got a free beer. Anyone with a T-shirt, hat or tattoo featuring another Cleveland sports star got a free second round.
In addition, Fathead.com, an online retailer owned by Cavs owner Dan Gilbert dropped the price of its LeBron Fathead wall decals from $99.99 to $17.41, which happens to be the same year Revolutionary War traitor Benedict Arnold was born.
Following James' announcement to join fellow free-agent stars Dwyane Wade and Chris Bosh in Miami, Gilbert posted letter to Cleveland fans, ripping James for "a several-day narcissistic, self-promotional buildup culminating with a national TV special of the decision unlike anything ever 'witnessed' in the history of sports and probably the history of entertainment."
Later, in an interview with the AP, Gilbert accused James of quitting in the playoffs the past two seasons.
"LeBron James needs to go to another team with two superstars already so he can win a championship," Gilbert said. "We will win a championship before (the Heat) do. ... It's not about him leaving. It's the disrespect. It's time for people to hold these athletes accountable for their actions. Is this the way you raise your children? I've been holding this all in for a long time."
Copyright 2018 The Associated Press. All rights reserved. This material may not be published, broadcast, rewritten or redistributed. We strive to uphold our values for every story published.