Baker University sophomore-to-be Mason Dick was one of the lucky ones Saturday at Eagle Bend Golf Course.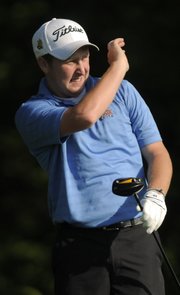 Dick, one of 65 competitors in this year's Lawrence Amateur Golf Association city tournament, played the opening round without a bogey and takes a one-stroke lead into today's final round at Alvamar Public.
"I'm pretty excited to be leading, and, really, just to be in contention," Dick said. "Tomorrow will be a different story and, basically, all it's going to take is someone putting up a number."
Dick's 69 was the number of the day in the championship flight, which also had four-time defending champion Conrad Roberts shoot 70. But the older gentlemen in this year's field stole the show on Day 1.
While Dick and Roberts fired the top two scores in the championship flight — with Tyler Cummins and Andy Hougland also shooting 70 — the top three players in the senior championship flight went even lower, albeit from a closer set of tees.
Defending champion Mike Grosdidier leads with a 68, and Bill Bailey (69) and Stew Platz (70) are right behind him heading into today's final round.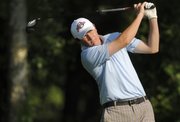 "Us old guys can hit it pretty straight," said Bailey, who is playing in the event for the first time. "We just can't hit it as long as those guys. But I'd take our threesome against most."
Saturday's round was just the second for Bailey at Eagle Bend. He said his inexperience at the course actually helped.
"You just hit the ball and see what happens," he said. "And I kept getting away with it."
Grosdidier has played plenty of rounds at Eagle Bend in his day and, after starting the day with a bogey on No. 1, that showed. He finished with a 34 on the par-36 front nine and a 34 on the back, as well.
"I hit the ball solid all day," he said. "But the thing that helped today was that the wind laid down. This is a much tougher course when the wind is blowing."
The ideal conditions made Roberts' round of 70 seem much more disappointing than two-under par. Roberts was two-under after nine and played the back nine with two birdies and two bogeys, including one on 18.
"I hit the ball good, and I had a lot of chances," Roberts said. "But I had one of my worst days of the year on the greens."
To put the round in perspective, the first time Roberts ever played the course, in 1998, he shot 67.
Despite the slow start, Roberts said he felt good about his position heading into the final round.
"As long as I keep hitting the ball well, the putts will drop," he said. "I surely can't have as bad a day putting as I did (Saturday). At least that's what I'm hoping. I'm actually pretty fortunate to be just one back and not more."
Dick, Roberts and Cummins all were expected to be in contention for this year's title. Adam Hougland wasn't. Hougland, 25, began playing the game just five years ago. He said he hadn't played much lately, yet still found a way to shoot 70 on Saturday. Hougland made three birdies on the front nine, added another on No. 11 and said he avoided mistakes all day.
Of the four players at the top of the championship flight, Hougland has to be considered the longshot heading into today, but not because he isn't capable of playing well again. More because he's played Alvamar Public just once in his life. Hougland said he was not worried about his lack of familiarity with the track that Dick, Roberts and Cummins all consider to be their home course.
"It's easier playing a course you haven't played," Hougland said. "Because you don't make stupid mistakes."
All four players will play together in today's final pairing, which will tee of at 10:18 a.m. The day opens with Carol Rau and Kristi Butler teeing off for the women's title at 7:30 a.m.
Add to the championship-flight mix Brad Bennett (71), Chuck Junge (72), Richard Taylor (73) and Spencer Wilson (73), who rounded out the top eight, and today's final round features eight players within four shots of the lead.
In other action Saturday, Rau shot 82 and took a six-stroke lead over Butler into today's final round in the women's flight; Garry Fister (76) leads by one stroke over Lee York in the Men's A flight; Glenn Tamerius (78) leads by four strokes over John Butler and Darrell Frank in the men's B flight; three players — Brian Edwards, David Greenamyre and Dan Heptig — shot 81 to tie for the lead in the Senior A flight; and John Sell (72) leads by four over Jim Hagan and Ted Brecheisen in the Super Senior flight.
Copyright 2018 The Lawrence Journal-World. All rights reserved. This material may not be published, broadcast, rewritten or redistributed. We strive to uphold our values for every story published.