Johannesburg — The World Cup is winding down, and with the final days come the big awards. Let FIFA decide the best player and stingiest goalkeeper. After a month packed with 62 games and 32 teams, there are lots of other prizes to be handed out for this first World Cup on the African continent.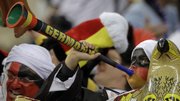 Here are some World Cup awards for the good, the bad, the ugly and, of course, one for the octopus:
The Golden Vuvuzela
South Africa may have been the first World Cup host to fail to get out of the group stage, but Bafana Bafana was a delight from Siphiwe Tshabalala's blistering left-footed shot in the opening game to the team dancing its way into the stadium for its final match (a win over the French, more on them later). The home fans were even better, enthusiastically cheering for every team and giving this World Cup a most distinct soundtrack with the blare of their vuvuzelas.
The Kinda Comeback Kids
Sales of antacid skyrocketed last month, thanks to the U.S. team and its penchant for late rallies. Much as the Americans swore they didn't like doing it, playing catch-up seemed to suit them, and their doggedness and clutch play won them new fans. The thrill ride was too good to last, though, and the Americans bowed out in the second round to Ghana after falling behind one time too many.
The New Glasses
England got robbed of a goal and Argentina was gifted one as officials created a highlight — or lowlight — reel of errors at this World Cup. The bad calls raised howls anew that soccer use video replay or other technologies, and FIFA president Sepp Blatter grudgingly agreed to consider it. But this is the same guy who once said, "Let's leave football with errors," so don't bet on changes.
The Hand of God
Diego Maradona was every bit as entertaining as a coach as he was a player. Whether he was stalking the sidelines, grimacing over fouls as if they were personal assaults, or celebrating Argentina's wins as if each was the tournament final, you couldn't take your eyes off of him. There were no outrageous outbursts, and while the verdict is still out on whether he really can coach, he didn't do anything to hurt Argentina, either.
The Silver Earplugs
Love 'em or hate 'em, those vuvuzelas and their swarm-of-bees sound stamped this World Cup as South Africa's own. But don't expect them to sweep the sports world. Wimbledon, the rugby World Cup, the Ultimate Fighting Championship all banned them. Not to be outdone, the United Arab Emirates' General Authority of Islamic Affairs and Endowments issued a fatwa against vuvuzelas if they exceed 100 decibels, which they usually do.
The Tarnished Ball
France behaved so abominably it might have locked this up for 2014, too. The defending runners-up staged a mutiny and refused to practice, pouting like a bunch of 3-year-olds in need of naps over coach Raymond Domenech's decision to send Nicolas Anelka home following Anelka's expletive-filled rant at halftime of the second group stage game. Oh, the French played abysmally, too, slinking home with one lousy point and one measly goal. Quelle catastrophe!
The Rusty Shoes
Wayne Rooney, Cristiano Ronaldo and Lionel Messi may be the biggest thing going in the game these days, but they were World Cup flops. Messi was the main reason Argentina reached the quarterfinals, creating plays for his teammates and occupying opposing defenses' attention. But he left without scoring a single goal. Ditto for Rooney. C'mon, guys. Even offensively challenged Greece managed to knock in a pair of goals. Ronaldo at least scored one goal, but it was more accidental than intentional. And stop with the flopping and the whining. It's beyond tiresome.
The Bald Patch
Teams were told to keep off the grass at several stadiums on the day before games to keep the fields from being damaged. This is, after all, wintertime in South Africa, and the rain and cool temperatures can ruin grass faster than a Jabulani can make a goalkeeper look silly.
The Bronze Continent
South America finishes third behind France and Italy for worst choke of the tournament. Sure, it gets huge props for all five teams advancing to the second round, all but one as winners of their groups. But by the time the semifinals rolled around, only Uruguay — yes, Uruguay — was left. All that love and flowery prose lavished on Brazil and Argentina turned out to be a waste, with both losing — decisively — in the quarters.
And last, but certainly not least, The Golden Boot(s)
Paul the Octopus. Who knew the biggest star of the World Cup would be an eight-legged guy who can't even kick a ball? Paul may have betrayed his native land (sorry, England), but his dead-on picks first charmed Germany and then an entire planet. If Brazil is looking for a mascot, it might want to consider him.
Copyright 2018 The Associated Press. All rights reserved. This material may not be published, broadcast, rewritten or redistributed. We strive to uphold our values for every story published.