Johannesburg — It's one of the hardest games in soccer to prepare for.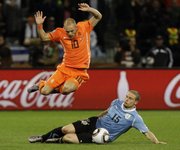 Just days after the bitter disappointment of missing out on the World Cup final, players from Uruguay and Germany have to lift themselves one final time in today's third-place match at Port Elizabeth's Nelson Mandela Bay Stadium.
Fans don't generally remember the team that finishes third at a World Cup, but it gives the Uruguayans and Germans a chance to leave South Africa with a victory and something to build on.
Uruguay brought back memories of previous glory in 1930 and 1950 with its run to the final. Yet, the Celeste left Cape Town devastated after the 3-2 semifinal loss to the Netherlands, according to striker Diego Forlan. Pride with Uruguay's best World Cup showing in 40 years — the country last made the semis in 1970 — is mixed with feelings of what might have been.
"We were so close to a World Cup final and we have missed a great chance," Forlan said.
"We've had a good tournament and it's been a fine World Cup for us," added midfielder Egidio Arevalo, "but we're still gutted."
For Germany, its 1-0 defeat by Spain was possibly even more painful considering its performances leading up to the game. The Germans led the tournament with 13 goals and routed old rivals England and Argentina on their way to the semifinals.
But they now have lost in the semis in successive World Cups, as well as the final in 2002 and the final of the 2008 European Championship.
Copyright 2018 The Associated Press. All rights reserved. This material may not be published, broadcast, rewritten or redistributed. We strive to uphold our values for every story published.