Miami — Dressed in a white Heat uniform for the first time, LeBron James took a look at his new home crowd, folded his arms across his chest and nodded.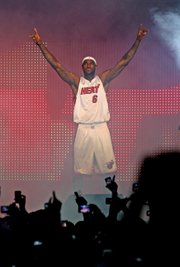 The MVP has taken center stage in Miami.
Reviled in Cleveland, revered in Miami. Welcome to South Florida, LeBron.
"It feels right," James said. "To be in this position, to wear the Heat uniform, everything is nice. We're going to make the world know that the Heat is back."
Naturally, James promised championships. Multiple championships.
Let a new era of Heat basketball begin.
"That's the only reason I'm here, man," James said.
With 13,000 fans chanting "Yes We Did!" amid an atmosphere more suited to a rock concert than a basketball game, the Miami Heat welcomed the NBA's newest trio of superstars Friday night for a celebration unlike just about any other in team history.
James, Heat favorite Dwyane Wade and Chris Bosh all arrived accompanied by plumes of smoke, lifted into the air on a forklift for their grand arrival.
Great fanfare. Great expectations.
"It's still surreal, man," Wade said earlier. "Me, Chris and 'Bron. We ready. We want to go to the gym now."
Wade was in the middle as the trio was lifted skyward for the entrance — Bosh on his right, James on his left. Bosh pointed to the fans and screamed, while Wade aimed his index fingers at the crowd and James strutted about to the fans' delight.
They walked down the stairs to a long runway, slapping high-fives with fans, clapping their hands and soaking in the atmosphere.
Meanwhile, behind the scenes, the Heat continued working on sign-and-trade deals for both players, and tried to clear space for Udonis Haslem — Wade's teammate for seven seasons and someone the 2006 NBA finals MVP wants back for the next chapter.
"This is surpassing a dream come true," Wade said. "You always want to put yourself in the best position possible. To have an opportunity to team up with arguably the best trio to ever play the game of basketball is amazing."
Heat broadcaster Eric Reid called them the "Three Kings" as the program got under way an hour behind schedule, presumably because of the trade talks. Keys to the city were set to be awarded to each star, and Gov. Charlie Crist was in the stands, along with several city and county officials.
Heat president Pat Riley — the mastermind of the deals — and coach Erik Spoelstra sat in the stands, as did owner Micky Arison. Fans were given posters with James, Wade and Bosh together in Heat uniforms.
Copyright 2018 The Associated Press. All rights reserved. This material may not be published, broadcast, rewritten or redistributed. We strive to uphold our values for every story published.