Las Vegas — President Barack Obama on Thursday cast upcoming elections as a choice between the party that caused the economic meltdown and the one that's fixing it, seizing on a populist, sharply partisan theme for the critical November midterms.
"This is a choice between the policies that led us into the mess or the policies that are leading us out of the mess," Obama said at a rally for Senate Majority Leader Harry Reid. "It's a choice between falling backward and moving forward."
Earlier Thursday Obama delivered much the same message of Democrats' progress vs. Republicans' retreat at fundraisers in Missouri for Democratic Senate hopeful Robin Carnahan. Carnahan, Missouri's secretary of state, and GOP Rep. Roy Blunt are contesting the Senate seat being vacated by retiring Sen. Kit Bond. Carnahan represents a chance for a much-needed Democratic pickup.
Helped by recent gaffes by Republicans, Obama has arrived at the message he'll employ as he campaigns more frequently and aggressively around the country for Democratic candidates.
In the case of Reid, Obama said he needed the senator to stay in Washington for a fifth term to help him move Democrats' agenda forward. Without ever mentioning her by name, the president went on the attack against Reid's GOP opponent, tea party-backed Sharron Angle, calling her too extreme and ridiculing comments she made on the BP oil spill.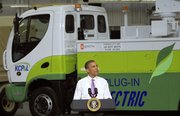 Taking aim at GOP
For both Democrats, Obama's newly honed message turned the man who pledged during his campaign to bridge partisan divides into a president who has begun playing into them.
For instance, the president repeated his attacks on Rep. Joe Barton, R-Texas, who had to apologize for apologizing to BP PLC, the primary owner of the blown-out well spewing oil into the Gulf of Mexico, and House Minority Leader John Boehner, who contends his metaphor likening the financial crisis to an "ant" is being twisted by Democrats.
Obama listed Republican policies he said led to economic disaster: lower taxes for millionaires and billionaires, fewer rules and regulations for the biggest corporations, and decisions that "cut working people loose."
"Pretty straightforward," he said.
Using a populist-themed refrain, he offer this description of the GOP approach: "You don't have health insurance? Tough luck, you're on your own. Can't afford to send your kids to college? Tough luck, on your own."
His jabs grew sharper as his remarks closed, saying Republicans care more about political points than "what it means for the next generation" and side with corporate titans over regular Americans.
"They don't think in terms of representing ordinary folks. That's not their orientation," Obama said. "So that's the choice we face in this election. We got the Bartons and the Boehners and the Blunts. They've got that 'no' philosophy, that "you're on your own" philosophy, that status quo philosophy."
As for Democrats, he said their policies were straightforward, too: cut taxes on the middle class, make sure big corporations are "playing by the same rules" as small businesses and invest in making sure people get the "skills for the future."
Republicans rejected Obama's rhetoric.
"Unemployment is near 10 percent. The American people continue to ask, where are the jobs? But the president keeps whining and indulging in childish partisan attacks," Boehner said in a statement. "How out of touch can he get?"
Electric car tour
Obama has been trying to get voters to buy a message he himself acknowledges is a tough sell — that things would be a lot worse if last year's $862 billion stimulus bill hadn't been passed.
Before the events for Carnahan, Obama spoke at a Kansas City electric car manufacturing plant that benefited from the stimulus bill. He plans additional remarks on the economy today while in Nevada, at the University of Nevada.
A recipient of $32 million in stimulus grants, Smith Electric Vehicles just hired its 50th worker and planned to bring on 50 more, Obama noted.
"You are setting a model for what we need to be across the country," Obama told a small crowd inside a former TWA airplane maintenance building that Smith Electric now occupies.
"And we're seeing similar things all across America, with investments and incentives that are fostering growth in wind power and solar power, in energy-efficient appliances and home building materials, and in advanced battery technologies and clean energy vehicles," the president said.
Copyright 2018 The Lawrence Journal-World. All rights reserved. This material may not be published, broadcast, rewritten or redistributed. We strive to uphold our values for every story published.