Visitors to downtown Lawrence 30 years ago likely will remember George's Pipe Shop. In an era when mom-and-pop shops filled the streets, 727 Mass. stood out for one reason: a talking Indian.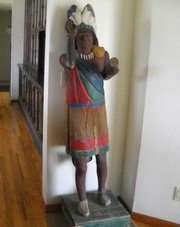 Shoppers were welcomed with a sign that read "If the Indian is out, George is in." As they approached the store, the nearly life-sized Indian would greet them, entertaining some and startling others.
Bob Brown, owner of a neighboring shop, said the Indian was a memorable and unique part of downtown for more than 50 years.
"I remember the kids stopping at the door to talk to the Indian; anybody that was part of downtown during that time would remember the Indian," Brown said.
Bob Schumm, owner of Buffalo Bob's Smokehouse, remembers the shop and the Indian as Lawrence originals. He said the shop itself was unusual and filled with items you wouldn't find in malls or other places.
"There is only one word to describe George's Pipe shop and George himself: unique," Schumm said.
George Wilson purchased the Indian from a closed tobacco shop in western Kansas. The statues were very popular during the mid to late 1800s but became increasingly obsolete with the advent of electrified signs. Tobacco is native to the Americas and often associated with Indians. The wooden statues generally depicted Indian stereotypes, with headdresses, tomahawks, or bows and arrows.
Wilson added a hidden speaker and microphone to his statue and used it to speak to shoppers from inside the store. For half a century he would wheel the moveable landmark in and out of his shop.
Wilson had inherited the store location from his father-in-law, Alfred H. Lawrence, who was a photographer in Lawrence from 1904 to 1946. When the elder man died, Wilson transformed the store into a cigar and pipe shop. Upon Wilson's death, the store was closed and the property fell to Brown.
Brown hung on to some contents of the store, including the Indian. He decided to keep the Indian and other Lawrence memorabilia for their historical significance.
"The Indian is a historic and cultural artifact of downtown, not because of its worth in money, but because the cigar shop was an important part of downtown Lawrence for many years," Brown said.
The Indian and other historic Lawrence items will be put on auction July 24 in Jefferson County near Valley Falls. Jeff Hoffman, auctioneer, said the nostalgic value of the Indian would make it one of the most popular items at the sale. Get more information on the auction.
Copyright 2018 The Lawrence Journal-World. All rights reserved. This material may not be published, broadcast, rewritten or redistributed. We strive to uphold our values for every story published.