Silvis, Ill. — After four months of pretty lousy play on the PGA Tour, Paul Goydos managed to turn things around just a bit — he shot a 59.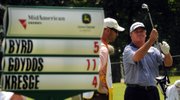 Out of nowhere.
"Today was a nuclear bomb," Goydos said. "I don't know where it came from. If I knew that, I wouldn't be able to touch it."
Perhaps just as amazing, Goydos held only a one-stroke lead Thursday after an incredible opening round at the John Deere Classic.
Defending champion Steve Stricker shot a 60, making for the two lowest scores ever in a single round at a PGA event. And he just missed tying Goydos on the last hole.
Golf
Lang weathers Oakmont, takes lead
Oakmont, Pa. — Temperatures were in the 90s. Michelle Wie was in the 80s. On a demanding day when tough old Oakmont Country Club illustrated again that playing par golf can be an achievement, only Brittany Lang was in the 60s.
Lang withstood Oakmont's slick, sun-browned greens and the unrelenting heat to shoot a 2-under 69 on Thursday and take a one-shot lead in the first round of the U.S. Women's Open.
Northern Irishmen duel
Luss, Scotland — Darren Clarke upstaged fellow Northern Irishman Graeme McDowell with a 6-under 65 to take a one-shot lead after the first round of the Scottish Open.
McDowell birdied his final two holes to finish alongside Phil Mickelson, who was making his first appearance in Europe since winning the Masters in April.
Baseball
Votto, Swisher voted in
Seattle — New York Yankees outfielder Nick Swisher and Cincinnati Reds first baseman Joey Votto were chosen by fans on Thursday for the final two roster spots in Tuesday's All-Star game at Anaheim, Calif.
Ramirez added to Home Run Derby
New York — Florida shortstop Hanley Ramirez has been added to the Home Run Derby during the All-Star break.
The 2009 NL batting champion will participate in his first derby on Monday in Anaheim, Calif. He had 13 home runs entering the Marlins' game Thursday night at Arizona.
College Basketball
KSU, Duke highlight CBE field
Princeton, N.J. — National champion Duke and NCAA tournament teams Kansas State, Gonzaga and Marquette have been selected as the regional hosts for this year's CBE Classic.
There will be three teams in each of the four regionals and the hosts, regardless of winning or losing, will advance to the semifinals and finals, Nov. 22-23 in Kansas City, Mo., it was announced Thursday.
Ex-Kentucky star commits suicide
Lexington, Ky. — Mel Turpin, former NBA player and All-American Kentucky center, committed suicide Thursday, authorities said. He was 49.
College Football
USC ineligible for coaches' poll
Los Angeles — Southern California is ineligible for the USA Today coaches' poll for the upcoming season.
Grant Teaff, the executive director of the American Football Coaches Association, issued a statement to USA Today on Thursday confirming that his organization's members aren't allowed to vote for any school on major probation, such as a bowl ban.
College Athletics
ACC, ESPN reach 12-year deal
Raleigh, N.C. — The Atlantic Coast Conference and ESPN have agreed to a 12-year deal that would give the network exclusive rights to conference football and men's basketball games. A person familiar with the agreement told the Associated Press that it's worth $1.86 billion over the 12 years.
Tennis
Record crowd takes in match
Brussels — A world record tennis crowd has watched Kim Clijsters defeat Wimbledon champion Serena Williams 6-3, 6-2 in an exhibition in Brussels.
The crowd of 35,681 at King Baudouin Stadium on Thursday surpassed the previous record of 30,472 set in 1973 at the Houston Astrodome in the Battle of the Sexes match between Billie Jean King and Bobby Riggs.
Track and Field
Olympic champ tests positive
Kingston, Jamaica — Olympic and world 100-meter champion Shelly-Ann Fraser has tested positive for a painkiller.
The president of Fraser's track club says Fraser tested positive for oxycodone at the Diamond League meet May 23 in Shanghai.
Bolt wins in return from injury
Lausanne, Switzerland — Usain Bolt won the 100 meters at the Athletissima meet in 9.82 seconds Thursday, returning from an Achilles' tendon injury to match the year's fastest time.
NBA
Celtics to sign Jermaine O'Neal
Boston Celtics general manager Danny Ainge said Thursday he expects to sign free agent center Jermaine O'Neal to fill in while center Kendrick Perkins recovers from knee surgery.
"We intend to sign him," Ainge told reporters. "Our priorities to start the offseason were obviously Paul (Pierce), Ray (Allen) and to strengthen our center position in light of Perk's injury. Hopefully by tomorrow we'll have these things taken care of."
Knicks' Lee headed to Warriors
New York — The agent for David Lee says the All-Star forward is heading from the New York Knicks to the Golden State Warriors in a sign-and-trade deal.
Mark Bartelstein says Lee will get a six-year, $80 million contract. The Knicks will receive forwards Anthony Randolph, Kelenna Azubuike and Ronny Turiaf.
Copyright 2018 The Associated Press. All rights reserved. This material may not be published, broadcast, rewritten or redistributed. We strive to uphold our values for every story published.