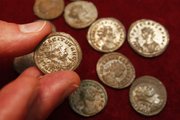 London — A treasure hunter has found about 52,500 Roman coins, one of the largest such discoveries ever in Britain, officials said Thursday.
The hoard, which was valued at $5 million, includes hundreds of coins bearing the image of Marcus Aurelius Carausius, who seized power in Britain and northern France in the late third century and proclaimed himself emperor.
Dave Crisp, a treasure hunter using a metal detector, located the coins in April in a field in southwestern England, according to the Somerset County Council and the Portable Antiquities Scheme.
The coins were buried in a large jar about a foot deep and weighed about 350 pounds in all.
Crisp said a "funny signal" from his metal detector prompted him to start digging.
"I put my hand in, pulled out a bit of clay and there was a little radial, a little bronze Roman coin — very, very small, about the size of my fingernail," Crisp said in an interview with the BBC.
He recovered about 20 coins before discovering that they were in a pot, and realized he needed expert help.
"Because Mr. Crisp resisted the temptation to dig up the coins it has allowed archaeologists from Somerset County Council to carefully excavate the pot and its contents, ensuring important evidence about the circumstances of its burial was preserved," said Anna Booth, of Somerset Council.
Copyright 2018 The Associated Press. All rights reserved. This material may not be published, broadcast, rewritten or redistributed. We strive to uphold our values for every story published.