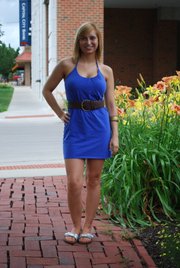 Age: 23.

Sign: Aries.
Occupation: Education coordinator for the Society of American Archivists in Chicago.
Hometown: Lawrence.
How long have you been in Lawrence? I grew up in Lawrence, and I'm back home for a week visiting my family.
What were you doing when you were scouted? Meeting my friends for dinner at Pachamama's.
How would you describe your style? I have a pretty "put-together" sense of style — I never like to look disheveled or messy. ... Everything must coordinate.
What are your favorite fashion trends? I love that fashion can be used to express who we are. I get excited when I see people using their style to distinguish themselves as individuals.
What are your least favorite fashion trends? I'm really bothered by people who choose to wear clothes that don't flatter their body type. I think it's important to embrace the body you're in and wear clothes that are comfortable and flattering for your figure.
What would you like to see more of in Lawrence? Public transit and better advertisements for free community events.
What would you like to see less of in Lawrence? Chain stores and restaurants. Part of the appeal of a place like Lawrence is its sense of community and unique local businesses. I think it's important to support local as much as you can.
Do you have any fashion influences? I'm most influenced by my friends, but I like to steal style tips from people I see on the street.
Do you have any piercings or tattoos? Just pierced ears.
People say I look like: My grandma tells me I look like Barbra Streisand.
Tell us a secret: Every time I come back to Lawrence I find every possible excuse to eat as much cheese dip from all of the local Mexican restaurants as possible.
Sandals: Birkenstocks, 2010, $50.
Dress: Victoria's Secret, 2010, $35.
Belt: Arizona Trading Company, 2006, $15.
Bangle: Casbah, 2007, $10.
Ring: Illinois, 2010, $25.
Gold Band: 2005, gift from mother.
Earrings: Street vendor in Manhattan, 2010, $15.
Copyright 2017 The Lawrence Journal-World. All rights reserved. This material may not be published, broadcast, rewritten or redistributed. We strive to uphold our values for every story published.