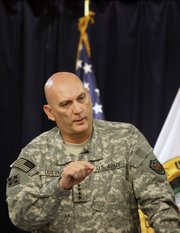 Baghdad — The top American military commander in Iraq said Tuesday that U.N. peacekeeping forces may need to replace departing U.S. troops in the nation's oil-rich north if a simmering feud between Arabs and minority Kurds continues through 2011.
A U.N. force might offer both the Iraqi leadership and President Barack Obama a politically palatable alternative to an ongoing U.S. presence to prevent ethnic tensions from descending into war. Although occasional bombings by Sunni extremists on Shiite targets grab the headlines, many observers believe the Kurdish-Arab dispute is the most powerful fault line in Iraq today.
Gen. Ray Odierno brought up the possibility of a U.N. force during an interview with The Associated Press. He observed that there is no immediate end in sight to the yearslong dispute between Arabs and Kurds, who have managed an uneasy political dance under American supervision since the fall of Saddam Hussein.
"That's something that has to be worked out," Odierno said, discussing potential options to defuse hostilities if a pilot program to bring Kurdish troops into the Arab-dominated Iraqi army fails.
"If we have not integrated, we might have to think of some other mechanism," he said. "I don't know what that is yet. Is it a Chapter 6 U.N. force? I don't know."
Chapter 6 of the United Nations charter refers to peacekeeping duties like investigating and mediating disputes.
At issue is a swath of land through three northern Iraqi provinces that Kurdish leaders want included in their semiautonomous region, known as Kurdistan. The area sits on top of some of the world's largest oil reserves and has been a flashpoint since Saddam forced tens of thousands of Kurds from their homes and replaced them with Arabs.
But the United Nations has so far been unable to broker a compromise to the land fight, a dispute which has compounded years of distrust between Arabs and Kurds, a separate ethnic group making up about 20 percent of Iraq's population.
A U.N. spokeswoman in Baghdad, Radhia Achouri, directed questions about peacekeepers to the Iraqi government and the U.N. Security Council. In New York, U.N. headquarters officials and diplomats said there has been no discussion about the possibility of a U.N. peacekeeping force in northern Iraq. They spoke on condition of anonymity because they were not authorized to speak publicly.
A security agreement between the U.S. and Iraqi governments requires all American forces to leave the country by the end of 2011. There are currently about 77,500 U.S. troops here. It's widely believed that Iraq's leaders may ask the United States to leave at least some troops behind to give the nation's uneven army and police forces more time to train.
Odierno maintained that decision would be up to the incoming Iraqi government, whose leadership is still contested after no clear winner emerged from the March parliamentary elections. But he left open the possibility that some U.S. troops might stay.
"I don't see a large U.S. presence here. I really don't," he said. "They might want technical support, but again, that's their decision, not ours."
Copyright 2018 The Associated Press. All rights reserved. This material may not be published, broadcast, rewritten or redistributed. We strive to uphold our values for every story published.