ABOUT THIS SERIES
"Farm Inc." is a multi-part series exploring the hurdles and joys of trying to be a full-time farmer in and around Lawrence.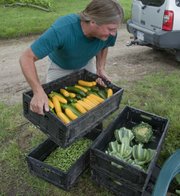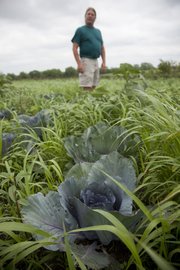 All Kevin Irick wanted to do was work in the sunshine. Unfortunately, the construction worker also had a broken neck and a doctor squinting at his chart trying to convince him a desk job would be a healthier option.
"The doctor was like, 'You should probably find something else to do, like a computer job or something.' I'm like, 'Yeah, you don't know me, do you?'" says Irick of the 1990 encounter. "I'm just not cut out to do that. I've got to be outside."
When he told the doctor his plan B was to be a farmer, not a desk jockey, he wasn't exactly met with support.
"And I'm like, 'I can do anything I want. I'm still alive and walking around.'"
Twenty years later, Irick, 48, is still proving that doctor wrong. He's running a 410-acre farm, of which 15 acres are used for the produce he supplies to locals through the Lawrence Farmers' Market, grocery stores and restaurants under the name Irick Farms. He also partners with Nate Atchison to provide fruit through a 5-acre orchard.
All in all, he's made full-time farming work for the past 16 years, despite the lingering pain in his neck, the constant risk and uneven pay of food production, and the stress of being a single parent to two teenagers.
From garden to business
It took Irick about a year to get back on his feet after the accident that damaged his C-5 and C-6 vertebrae. Soon, he started gardening and got to a point where he had too much to eat and signed up for a table at the Lawrence Farmers' Market and found a new love: selling his goods directly.
"I really like the retail end of dealing with people. Because people are so appreciative of what they get and what great quality is," he says. "And also the restaurant business is excellent, too, just because the chefs, when they find something they really like, it's good for them, it's good for me."
One of the first restaurants Irick expanded to was Free State Brewing Co., 636 Mass. Executive chef Rick Martin says not only was Irick the first local grower the restaurant orally contracted for local produce, but he was also instrumental in creating a model that would allow the restaurant to efficiently work with several local growers.
"It gave me an example to show to others. Kevin was our primary grower, we spent a lot of money with him, and when others asked me why, I said he offers me terms, I don't have to do COD, I don't have to go to the Farmers' Market with a check or with cash, and he delivers it to my back door, just like produce companies I'm used to," Martin says. "It allowed three or four other major growers that I have now to take that plunge and say, 'I want to do this as well.'"
And that, Martin says, has significantly changed the accessibility of local foods to chefs.
"It really started what I like to consider as the 'getting over the hump' with us and local foods," he says. "All of a sudden, it became very easy, and there's a lot of growers that were on board with that concept of offering restaurants terms."
Irick is all about getting good food to the people. He has a table at every possible Farmers' Market opportunity — Tuesday, Thursday and Saturday — and delivers to grocery stores for those who can't get to the markets. He also has two working greenhouses to keep the business going in the winter. And he's also taken to growing flowers for folks interested in more than just food.
Atchison, who has worked with Irick for five years now, says the biggest lesson he's learned from Irick is, in fact, diversification.
"You try to diversify, for the most part. Don't put all your eggs in one basket and, hopefully, something will turn out for you that way," Atchison says. "I'd never worked on any kind of the scale that we have out here. I just have never approached anything like that, and as I say, I've just been a home gardener with my folks, pretty much. Don't get me wrong, it was a pretty impressive garden, but nothing compared to what we're doing out here."
Eating what he grows
And that variety not only makes for good business, it makes for a healthy diet at the Irick home.
"We definitely eat everything we grow. And that's the deal, I don't grow anything I don't eat," he says. "What we grow is exactly what we eat."
And all that does make for some interesting grocery trips, jokes Irick.
"We definitely have to buy olive oil and rice and pasta," he says. "But I'm sure the people at the grocery stores I shop at think I'm quite the peculiar guy because we rarely buy vegetables or fruit. They'll be like, 'Wow, he bought some more fish.'"
And the meals, like stir-fry with the napa cabbage he grows, are healthier than back in his construction days, that's for sure, he says. They also aren't a bad idea for a family that's been without health care for six years, when Irick was dropped. He hasn't been able to find anything since, thanks to a pre-existing condition: atrial fibrillation, a type of abnormal heart rhythm.
"Most people hear that and they don't want to insure me," Irick says. "It's a scary deal to go through life with no health insurance. I mean, I'm healthy now, but my heart's in good shape, better than it ever had been. (The kids) don't have health insurance either, it's all out of pocket, and that's what's really expensive — just to maintain your teeth and what have you. It costs a lot of money."
Which may be why, at 48, Irick plans on working into his 80s. Well, that, and he loves his job, doctor be darned.
"I like being outside, I've always loved working outside, that's why I did construction. And also being my own boss is just awesome," he says. "I've got a long time to work, probably 35 more years. I think our future looks great."
Copyright 2018 The Lawrence Journal-World. All rights reserved. This material may not be published, broadcast, rewritten or redistributed. We strive to uphold our values for every story published.