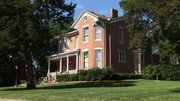 Ken and Phyllis Wertzberger grew up in a different Lawrence.
The brother and sister recall childhood memories of sledding down Ninth Street and parking cars in the family front yard during KU football games in a town that essentially ended at Emery Road and didn't offer much of the student housing in abundance today. The pair's kid-sized handprints are immortalized in cement with the inscription June 20, 1949, along the side of the brick Italianate-designed house they grew up in on Arkansas Street.
As an adult, it was that sense of fond nostalgia that led Dr. Ken Wertzberger to jump at the opportunity to buy and renovate the family home, and no one could be happier about his decision than his sister.
"Growing up, this was like a palace to me. I was tickled for Ken to own it. He really saved this house," says Phyllis (now McAdoo).
Wertzberger, an orthopedic surgeon who recently retired from his 27 years of service to the Jayhawks, was an All-American football player at Lawrence High and was a member of the 1969 Orange Bowl KU team, making his roots as cemented to the town as his handprints are to the family house.
Restoring the property was a labor of love that first required extensive reinforcement of the sagging main floor. Wertzberger was intent on maintaining the character of the 1873-built home while making necessary improvements. An impressive walkway of flagstone and brick leads to the recently added front porch. Inside, perfected plaster walls complement soaring ceilings, original wood floors and a treasure trove of surprise-find pocket doors.
"Home and Away" premieres at 6:30 p.m. Mondays at 6:30 on Sunflower Broadband Channel 6 and replays throughout the week.
Copyright 2018 The Lawrence Journal-World. All rights reserved. This material may not be published, broadcast, rewritten or redistributed. We strive to uphold our values for every story published.