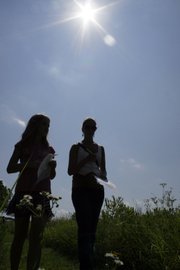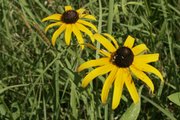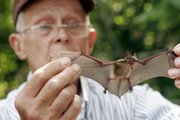 The sunlight peeks through a row of trees near Brad Guess' house, giving a hint to what is on the other side.
Walk over a few rocks, through a small opening in the foliage, and the sky opens to cover a sea of wildflowers and grasses.
Guess admits he and his brothers didn't have much use for this land northwest of Lawrence in the 1970s, when they were growing up here.
"We were more fascinated by the woods and playing in the woods," Guess says. "This looked like grass with weeds in it."
But now that he's moved back to the house he grew up in, Guess says he's come to appreciate exactly what this space is — 30 acres of native prairie, an increasing rarity even in a rural state such as Kansas.
This land has more than 100 species of plants, well more than land that has been plowed. Butterflies flit among the flowers, turkeys nest, and bobcats and coyotes roam freely.
"It's a real special place for us," Guess says. "It's a place to learn new things."
And that's why Guess is glad to share the space with others who want to learn, too. On June 26, he and the Grassland Heritage Foundation hosted children and mentors from Big Brothers Big Sisters of Douglas County to give them an appreciation for the prairie.
The youngsters heard presentations on animals and plants, and the value of preserving virgin prairie.
But most importantly, they were able to explore the prairie on their own, completing a scavenger hunt of plants such as daisy fleabane, black-eyed Susans and milkweed.
Those guests included Melissa Anderson of Lawrence and her 11-year-old "little," Paige Bellmyer.
"It was pretty," Paige said. There are a lot of flowers."
"I thought it was very interesting," Anderson added. "There were a lot more plants than I expected there to be."
It was an introduction to native prairie for many of the guests, and that was exactly the idea, said Frank Norman, a biologist and member of the Grassland Heritage Foundation's board of directors.
The organization serves to educate the public about the importance of untouched prairie and to preserve prairie. Its largest tract is the Snyder Prairie, 140 acres near Mayetta that was donated to the organization.
"It's our heritage," Norman said. "It's a refuge for a lot of wildlife and plants. It goes back to the heritage of the Midwest, and provides us a link to back there."
But Norman admits developing an appreciation for the prairie means having an appreciation for subtlety.
"It's a little bit of a hard sell," he said. "It might be easier for the kids."
And that was why Norman and others involved in the Grassland Heritage Foundation were happy to see the Big Brothers Big Sisters participants romping through the flowers and grasses.
In his talk to the group, Norman encouraged the children to spend more time outdoors.
"This," he said, "is my favorite place to come."
Copyright 2018 The Lawrence Journal-World. All rights reserved. This material may not be published, broadcast, rewritten or redistributed. We strive to uphold our values for every story published.