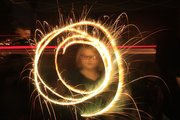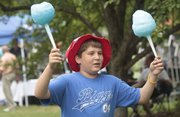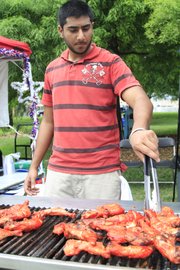 What began as a cloudy day in Watson Park eventually turned into a rain-soaked Fourth of July, dampening but not drowning the spirits of hundreds of people gathered in downtown Lawrence for the Lawrence Originals Food Festival and Fireworks.
"It started getting a little chaotic," said Sara Wolfe, who was at the park. "The rain came and people kind of scattered under the trees, under the booths, just anywhere they could find some dryness."
Sunday marked the festival's second year and chefs — who represent restaurants original to Lawrence, not chains — were happy to serve their customers outside the setting of a restaurant. "It's a picnic-type tradition and we think it's an outstanding opportunity for people in Lawrence to come out," said Paisano's owner Steve Butland.
Holiday staples like hamburgers and hot dogs were on the menu, but many chefs wanted to give the community a true taste of Lawrence. "It gives the Lawrence Originals a chance to showcase their particular traits or their particular menu," said Marisco's co-owner Cindy Monshizaeh.
The festivities included live music and kids' games, but as the rain arrived before dusk some began to doubt whether the fireworks show was still a possibility — everyone, that is, except the Jaycees fireworks crew.
Taking refuge under a tarp, Rick Bellinger was asked what the plan was. "Plan? We're going to shoot off some fireworks. It's going to stop raining," he replied.
By 8:45 the rain had subsided and several dozen people began to move back to the park. Many said regardless of the weather they wanted to see this Fourth of July go out with a bang.
"I really want to see some fireworks," Wolfe said, "so I'll be here."
Copyright 2018 The Lawrence Journal-World. All rights reserved. This material may not be published, broadcast, rewritten or redistributed. We strive to uphold our values for every story published.