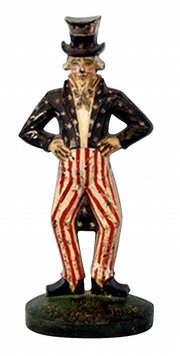 Uncle Sam has been an important symbol in the United States since the War of 1812. The name was first seen in print in a book written in 1816. Today's Uncle Sam, with top hat, striped jacket and beard, was drawn for a famous recruiting poster in 1917. The image was soon copied in books, games and toys. Patriotic Americans liked to shake hands with Uncle Sam at penny arcades in amusement parks. One famous Uncle Sam machine was a strength tester. For a penny, you could grab his hand and squeeze as hard as you could. The arrow on the dial told how firm your grip was. If you scored 300, a bell rang. The Uncle Sam grip test, 76 inches tall, is made of enameled iron and has an oak cabinet base. The first machines were made by Caille Brothers Co. in about 1908. It was copied by the International Mutoscope Co. in the 1920s and again in 1978 by a private company that sells the machines today. An old machine was sold in by Showtime Auction Services in April 2010 for $26,400.
I have a replica of the Liberty Bell that swings and rings. The bell is attached to a wooden block. Inside the bell it says, "J.I. Houck, Pottstown, Pa." Under the wooden block is a label that says "Bailey Banks & Biddle, Philadelphia." It's dated "1832 U.S. Pat. No. 2444611." I'm curious about those companies.
Your Liberty Bell is a bank, but it wasn't made in the 1800s. Jonathan I. Houck of Pottstown received a patent for his bell-shaped bank in 1948. Coins were inserted in the slot in the wooden hanger and dropped into the bell, which could be opened at the bottom. Bailey Banks & Biddle was a famous jewelry store with branches in several cities. It traced its history back to 1832 (the date on your bank), when Joseph T. Bailey began working as a silversmith. Joseph T. Bailey II went into partnership with George W. Banks and Samuel Biddle to form Bailey, Banks & Biddle in 1878. The company was bought by Zales in 1961, but the brand name was kept. Following other corporate changes, all Bailey, Banks & Biddle stores closed in 2009. Your Liberty Bell bank sells for about $25 today.
Q: My mother gave me her small jug in the shape of Uncle Sam's head. I remember it from my childhood in the 1940s and '50s. The bottom is marked "Uncle Sam, Royal Winton, Grimwades, Made in England." The jug is about 3 inches tall. Can you tell me its history and value?
A: Brothers Leonard and Sidney Grimwade founded their ceramics company at the Winton Pottery in Stoke-on-Trent, England, in 1885. Known as Grimwades Bros., then Grimwades Ltd., the company eventually specialized in making chintz dishes. Most are marked "Royal Winton," the trade name Grimwades adopted in 1929. Royal Winton character jugs were made from the 1920s until the 1940s. Uncle Sam was made in two sizes, 3 and 4 inches tall. Your smaller jug sells for about $40 to$50.
Q: I have a historical newspaper dated Aug. 15, 1945. The top story is "PEACE, Shooting Ends in the Pacific. President Truman Announcing End of War." Can you tell me what this newspaper is worth?
A: The value of an old newspaper is based on the historical importance of the news on the front page and the newspaper's rarity. News of the end of World War II was published in virtually every newspaper in the United States and around the world. Because it was such an important event, many people saved their newspaper from that day. A complete newspaper is worth more than just one page. If the main story on the front page is continued to back pages, you need to have those pages. To preserve your newspaper in the best condition, store it flat with the pages unfolded. If folded, it may discolor or fall apart along the fold. The paper can be wrapped in acid-free tissue paper and laid flat in a box with a lid on it. You can buy acid-free paper and boxes from several different companies. The box should be stored in a dry, cool place, not in a hot attic or damp basement. You can even buy an archival scrapbook that is large enough to hold a full-size newspaper. If you are just keeping the front page, you might want to frame it. The value depends on which newspaper you have. Copies range from a framed Washington, D.C., newspaper at $395 to copies from small cities at less than $100.
Q: I have been handed down a 4 1/2-inch green carnival glass basket. An elk head and a clock are embossed on the inside, along with 10 stars around the edge and "1914, Parkersburg, B.P.O.E." The name "Taylor" is on the outside of the basket. Can you tell me something about it?
A: Your basket was made in the early 1980s by Fenton Art Glass Co. of Williamstown, W.Va. Original carnival glass souvenir pieces made by Fenton for the 1914 Parkersburg, W.Va., convention of the BPOE (Benevolent and Protective Order of Elks) included only a plate, bowl and bell. An original plate in green can sell for more than $2,000. Dorothy Taylor (the "Taylor" on your basket) asked Fenton to make new Elks pieces like your basket for her Encore Glass Club. Your basket sells today for about $30.
Tip: A roll top on a roll-top desk can be repaired with window-shade material. Glue the slats to the material with white glue. Be careful; this is not an easy repair and slats must be spaced properly.
Terry Kovel answers as many questions as possible through the column. By sending a letter with a question, you give full permission for use in the column or any other Kovel forum. Names, addresses or e-mail addresses will not be published. We cannot guarantee the return of any photograph, but if a stamped envelope is included, we will try. The volume of mail makes personal answers or appraisals impossible. Write to Kovels, (Name of this newspaper), King Features Syndicate, 300 W. 57th St., New York, NY 10019.
Current prices
Current prices are recorded from antiques shows, flea markets, sales and auctions throughout the United States. Prices vary in different locations because of local economic conditions.
World War II Airplane Spotter playing cards, three aerial views, first issued 1943, U.S. Games Systems Inc., 1990 reissue, $16.
World War II military canteen, round, patent date May 4, 1915, impressed around collar, Worcester Pressed Aluminum Co., U.S.A., 7 5/8 inches, $56.
U.S. Marines & Korean War toy soldiers play set, plastic, four Marine soldiers carrying machine guns, 5 Korean soldiers with rifles, Marx, 1963, set of 9, $60.
Elsie the Cow "Save for War Bonds" bank, paper over wood, Elsie and Baby Beulah holding coin, slot reads "push first coin through here," 1940s, 4 3/4 x 3 1/2 inches, $65.
Needlework souvenir of Boston, images symbolic of Boston, including Paul Revere, Old North Church, Colonial soldiers, beige, red, black & green thread, 23 square inches, $90.
Confederate States of America $1,000 bond, 30-year bond at 6 percent interest, payment due April 1893, seven coupons in book, 22 x 17 inches, $145.
1893 Chicago World's Fair souvenir handkerchief, image of Columbian Exposition overview on U.S. flag, 16 square inches, $230.
WAAC doll, composition, jointed at shoulders and hips, painted facial features, molded hat, khaki World War II uniform, Ralph A. Freundich Inc., 1942, 15 inches, $295.
Staffordshire ABC plate, "Union Troops in Virginia," white ground, brown image of troops & horses, 1870s, 6 inches, $385.
Weeden toy car, No. 28 Locomobile, steam engine, American flag image stamped on side, red body, iron wheels, c. 1894-1901, originally $1.25, 9 x 5 inches, $1,380.
Copyright 2018 The Lawrence Journal-World. All rights reserved. This material may not be published, broadcast, rewritten or redistributed. We strive to uphold our values for every story published.