Photo Gallery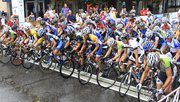 2010 Tour of Lawrence
This is the second year for the bicycle race, which is expected to draw more than 400 riders.
Past Event
When: Sunday, July 4, 2010, noon
Where: Downtown Lawrence, Lawrence
-->
-->
The last seven months have been a wild introduction to bicycle racing for Lawrence resident Michael Garven.
Saturday, at the second annual Tour of Lawrence's KU Campus Circuit Race, Garven, 26, added his first career victory to all of the bumps and bruises, smiles and setbacks he had stockpiled since purchasing his bike from Sunflower Outdoor & Bike Shop on New Year's day.
"It was awesome," Garven said. "This was probably my fourth or fifth race ever, and it just felt incredible to come out on top."
The funny thing about Garven's victory in the Cat 5 men's race was that it almost turned into a "did not finish" at the end. With just a few hundred yards remaining in the race, Garven approached the finish with plenty left in his tank. As he let loose on the final climb, he sensed some commotion down by his bike chain and heard the horrifying sound of trouble.
"The first thing I thought was that I torqued and snapped my chain," Garven said. "So I looked down, shifted, it snapped back in, and I was able to work my way back up to the front. You're not supposed to shift when you're going up a hill so it was kind of a risk, but it paid off."
Garven crossed the finish line, which was at the west end of Wescoe Beach on the KU campus, a little more than 50 feet ahead of Tyler Gaddis, of Shawnee.
Garven's push, and, really, his race altogether, was something of a pleasant surprise considering that the emergency-room nurse, who works in Leavenworth, entered the 11.8-mile race on the heels of a night shift and without having slept in 20 hours.
"I felt pretty good after the first climb, and I felt really good going into that last hill," Garven said. "I was second for a long time, but I just decided to go for it."
Garven was not the only Lawrence resident to have success Saturday — far from it, in fact. The 50-mile men's pro race also had a substantial Lawrence flavor, as Joseph Schmalz finished second, and Jason Knight and Adam Mills were two of the lucky ones who survived the grueling race.
The race began with 70 competitors. Just 28 riders crossed the finish line.
Lawrence heavyweight Brian Jensen, who was expected to compete for the title, dropped out after a crash during the first lap. A late-afternoon shower that saturated the streets was at least partially responsible for the pile-up.
Schmalz, however, jumped into the lead pack early and fought to stay there. At times, he held the lead. At others, he fell to third. But at the end, just seconds after Andrew Dahlheim crossed as the winner, Schmalz roared to the finish line, standing up with his head down, to win a sprint for second.
"It was a hell of a hard race," Schmalz said. "It was very cat-and-mouse down the stretch, very tactical. But it was awesome racing in my hometown like this. It's always good when you can ride (to the race) from your house and sleep in your own bed the night before."
Several other racers who call Lawrence home represented the city well on Saturday. Sam Weinberg, of team Colavita/Parisi, finished second in the Cat 4 men's race, with Robert Brigman (eighth), Dan Hughes (11th) and Benjamin Urich (18th) also cracking the top 20 in that event. Hugh Janney, Jacob Larsen and Craig Lowe also competed in the 58-man Cat 4 race.
Joining Garven in the top 15 of the 54-man Cat 5 race were Lawrence residents Gardner Burg (11th) and Corbin Soliday (13th). Matt O'Reilly also hit the hills of KU for the Cat 5.
Darren Klish and Samuel Perkins represented Lawrence in the Masters 40-plus race, and Austin Elser (10th) and Spencer Martin (20th) cracked the top 20 in the 48-man Cat 3 race. Greg Payne, of Lawrence, also competed in the Cat 3 race.
In women's action, Lawrence's Carol Flinchbaugh finished third in the Cat 3/4 race. She was joined in the top 25 by five others from Lawrence — Madeline Finch (11th), Hannah Caproon (13th), Erica Goddard (19th), Lindsay Lorenz (20th) and Laura Richards (23rd).
As for the pros, Megan Hottman, of Golden, Colo., won the women's pro race, edging out her Treads Bicycle Outfitters teammate, Gwen Inglis, at the finish of the 23.6-mile women's race.
Lawrence's Michelle Jensen finished 10th in the women's pro race.
For Hottman, who entertained the idea of riding in both the women's and men's events Saturday, the finish was especially gratifying considering she took a couple of spills early in the race before recovering to win.
"I was not prepared for rain today," Hottman said. "It was a tough go out there. It was like a slip 'n' slide out there."
Hottman is one of the up-and-coming names in women's cycling, and she has big goals for the future.
"I'm training for the 2012 Olympics," she said. "So I got my game face on. I'm out to win everything I do."
Saturday's action included eight different races and more than 300 competitors. It featured a varying number of laps on the four-mile course that made its way across and around the KU campus.
Other winners of the KU Campus Circuit Race: Janne Hamalainen, of Tulsa, who won the 19.7-mile Masters race; Austin Vinton, of Springfield, Mo., the 19.7-mile Cat 4 race; Roberta Smith, of Denver, the 11.8-mile Cat 3/4 women's race; Kent Woermann, of Lee's Summit, Mo., the 23.6-mile Cat 3 men's race; and Vance Fletcher, of Chariton, Iowa, the 11.8-mile juniors race for 10- to 18-year-olds.
The final leg of the Tour of Lawrence begins at 8 a.m. today with the Mass Street Mile foot race. The bicycle races, which will traverse a figure-eight course through downtown, will begin at noon.
Copyright 2018 The Lawrence Journal-World. All rights reserved. This material may not be published, broadcast, rewritten or redistributed. We strive to uphold our values for every story published.