Photo Gallery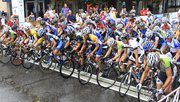 2010 Tour of Lawrence
This is the second year for the bicycle race, which is expected to draw more than 400 riders.
Most summer nights, one of the most popular draws to downtown Lawrence is the Free State Brewing Company's "cyclist" beer, a mixture of lemonade and Wheat State Golden ale.
Friday night, a different type of cyclist altogether took over the streets of downtown to kick off the second Tour of Lawrence, a three-day cycling extravaganza that opened with the Eldridge Hotel Street Sprints near Seventh and Mass.
Carrie Cash Wootten, of St. Louis, won the top prize in the women's race, and Josh Carter, of Wichita Falls, Texas, won the men's race, but not without a little drama.
Most race days, Cash Wootten only gets one chance to wag her tongue as she crosses the finish line in first place. Friday, she got two, thanks to some confusion at the start of the women's final.
When the word was given for the women to begin, four of the six broke free, but two stayed behind. One of those two was Kate Ross, of Asheville, N.C., who ultimately finished third but nearly defaulted to fifth after getting her signals crossed at the start.
"I rolled up to my lane, and no one was there to hold my bike," said Ross of the traditional starting formation she was missing. "I stayed down there because I didn't want anybody to think I was ready."
As the rest of the field tackled the 200 meters toward the finish line, Cash Wootten crossed first and flashed a wild smile as she rolled to a stop. Moments after the race, however, a protest was filed, and the women were sent back to the starting line to do it all again.
No problem for Cash Wootten. Rather than letting the re-start psych her out, she simply increased the distance by which she won, and, of course, let the tongue go wild one more time.
"If I really get into it and am feeling it, that's just kind of what I do," Cash Wootten said of her signature celebration. "You don't ever want to have to race again, but you always have to be ready for it. Starting-wise, I just decided to go with the same gameplan, and it worked out."
Ross, who now travels with her rival to most races, said she appreciated how calm Cash Wootten was about the re-start.
"Carrie Cash is an amazing racer and a great human being," Ross said. "She's always real supportive of women's racing and the entire sport, whether she has a good day or a bad day. She has the kind of integrity that you hope to have, and I've always looked up to her."
That mentality was the same for the men's field, especially the champion. Make no mistake about Carter's reason for coming to Lawrence. After finishing second in last year's street sprints because of a late cramp, Carter returned with one goal: "I came here with a vengeance. I wanted to win."
After more than 50 heats, he accomplished that feat, roaring nearly 37 mph in the final sprint to take the title.
With so many more men racing than women, Carter said it was difficult to kill time between runs. But the one thing that most competitors did that helped pass the time demonstrated the spirit of the sport.
"I've been racing with a lot of these guys for a long time, so we spend a lot of time down by the starting line just making fun of each other," Carter said. "That, plus little things like talking about the other heats or minor adjustments, just helps keep our minds off of it. We live all over the country, but we're a really tight-knit community."
Nick Coil, of Prairie Village, was second in the men's race and Andrew Dahlheim, of Richardson, Texas, rounded out the top three.
In the women's event, Megan Hottman took second, while Catherine Walberg, of Topeka, was sixth, and Michelle Jensen, of Lawrence, was ninth.
The Tour of Lawrence continues today with the KU Campus Circuit Race.
The first race will begin at 9 a.m. The women's pro race is slated for 4 p.m. and the men's pro race will run at 5:30 p.m.
Copyright 2018 The Lawrence Journal-World. All rights reserved. This material may not be published, broadcast, rewritten or redistributed. We strive to uphold our values for every story published.