Miami — The first hint of a nearing end to the massive oil spill in the Gulf of Mexico was voiced Friday by the Coast Guard admiral in charge there.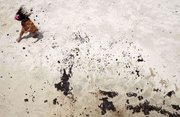 By July 15, a new, better cap might replace the present leaky cap on the broken well — temporarily containing all of the oil, said Adm. Thad Allen.
And the relief well counted on to permanently seal the oil leak is a week ahead of its early-August schedule, he said.
If the new cap works, it could capture up to 80,000 barrels of oil a day. Current estimates of the spewing oil are 35,000 to 60,000 barrels a day, so it all might be contained, Allen said.
The new system would involve cutting away the current cap on the well, which is poorly fitted and uses a rubber seal that lets thousands of gallons a day of oil spew into the Gulf. It would be replaced by a thick steel cap that would be bolted on. It would connect to four riser pipes that would go up to four containment vessels on the surface.
A decision about whether to go ahead with the new cap will be made in about a week, Allen said. One consideration is to compute how much longer it might take to disconnect such a complex new system if a hurricane approaches, he said. With the current setup, oil containment must be suspended 120 hours before gale force winds arrive.
BP spokesman Robert Wine confirmed that the new collection cap, if successful, might temporarily stop the entire flow of oil.
"We had been asked to come up with a plan to create extra capacity and duplication so that if something happened to one (surface collecting) vessel, we could keep producing," he said.
Allen also said BP's efforts to drill a relief well to permanently close the leaking well are seven or eight days ahead of their August schedule, and within about 600 feet of the well at 11,817 feet below the surface of the Gulf of Mexico. Workers are drilling about 15 feet at a time, then backing off the drill to take new readings to make sure they are on target.
A second relief well is at 7,775 feet.
"I am reluctant to tell you it will be done before the middle of August because I think everything associated with this spill and response recovery suggests that we should under-promise and over-deliver," the admiral said.
Once drillers reach the pipe in the blown-out well, they will need two to five days to bore into it, pump in enough heavy mud to overpower the upward pressure of the spewing oil, then pump in concrete to seal it permanently, Allen said.
Meanwhile in the Gulf, weather forecasters predicted 3-to-4-foot seas to return by today, letting cleanup efforts resume.
Even with the rough seas, BP reported collecting 7,400 barrels of oil on Thursday, and said it flared 4,085 barrels of oil and 28.5 million cubic feet of natural gas.
And the EPA released a study that said the dispersant being used by BP to break up oil before it reaches the surface is not dangerously toxic to fish and shrimp. Some environmentalists had charged that Corexit 9500, the dispersant, might be more toxic to marine life and the environment than the oil itself.
New EPA tests found that Corexit and seven other dispersants showed roughly the same effects, but JD-2000 and Corexit were least toxic to small fish, and JD-2000 and SAF-RON GOLD wee least toxic to mysid shrimp.
The EPA stood by its May 26 order that BP should decrease its use of any dispersant by 75 percent. BP, which had argued it couldn't find a less-toxic dispersant than Corexit, has reduced its use by 68 percent.
Copyright 2018 The Lawrence Journal-World. All rights reserved. This material may not be published, broadcast, rewritten or redistributed. We strive to uphold our values for every story published.