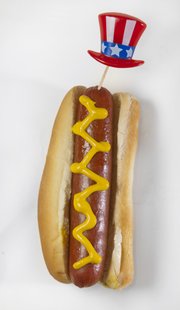 Hot Dogs
• July is National Hot Dog Month, and "hot dog season" runs from Memorial to Labor Day, when 38 percent of all hot dogs are sold during the year.
• If the number of hot dogs Americans eat on the Fourth of July — 150 million — were stretched end to end, the hot dog trail would run across the United States five times.
• Hot dog eating etiquette: Hot dogs are a casual food, but that doesn't mean manners don't apply. The American Hot Dog Council publishes a hot dog etiquette guide, complete with a YouTube video demonstration. The basics? Dress the dog, not the bun. And no utensils.
• The most popular hot dog condiment? Mustard, 32%; ketchup, 23%; chili, 17%; relish, 9%; and onions, 7%.
• Cost of hot dog at a Royals game? $4.25, but only $1 on "Buck night."
• Choking hazard: Of the 66 to 77 people who die from choking on food every year in the United States, hot dogs account for about 17 percent, more than any other food, according to the American Academy of Pediatrics, which advocates for a hot dog redesign to reduce choking.
• Calories in a hot dog?
— BallPark brand Jumbo Beef Franks: 240 calories
— Oscar Meyer brand Classic Turkey: 100 calories
— Hebrew National brand Kosher Classic Beef Franks: 150 calories
• PETA organizes annual events — featuring veggie dogs given away by models dressed in lettuce — in response to National Hot Dog Month.
Journal-world hot dog polls
Q: What is your favorite place to eat a hot dog?
• From the grill or at a cookout: 57%
• Baseball game: 35%
• At home: 5%
• A restaurant: Less than 1%
217 total votes
Q: How many hot dogs will you eat on the Fourth of July?
• 0: 58%
• 1-2: 28%
• 3-4: 5%
• 5 or more: 7%
Total votes: 274
Q: What is the one must-have condiment you put on a hot dog?
• Mustard: 52%
• Ketchup: 24%
• Relish: 4%
• Sauerkraut: 2%
• Plain: 2%
• Chili: 2%
Total votes: 646
Q: Are you concerned about the ingredients in a hot dog?
• No: 39%
• Yes: 30%
• I don't want to think about it: 29%
Total votes: 226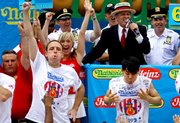 A frank. A wiener. A hot dog. Call it what you will, but our nation can't get enough of them.
Songs, poems, books and websites commemorate our nation's love affair with the hot dog.
To suit every hot dog enthusiast's taste, hot-dog makers have created all-beef, organic, veggie, turkey, chicken, tofu and kosher hot dogs. They're stuffed in fried dough. They can be grilled, steamed, microwaved, fried, boiled, "George Foremanned" — or eaten raw.
With or without a bun. Plain, or slathered with relish, mustard and onion.
We hold contests to determine who can stuff the most hot dogs down their throats.
There are hot-dog historians, as well as a National Hot Dog and Sausage Council — headed by the self-described "Queen of Wien."
And on the Fourth of July, the biggest of days for the American favorite, we eat more than 150 million hot dogs.
Local stores, reflecting the national trend, see huge spikes in sales of hot dogs, buns and toppings, as well as charcoal and propane tanks for the grills.
"It's exponential," said Andrew Yochum, store manager at Hy-Vee, 3504 Clinton Parkway, of the holiday surge.
In the middle of the day last Monday, it was a little lonely in the hot-dog area at the store, and everything was fully stocked. But that'll change by today.
"Most customers are last-minute shoppers," he said.
Why does a simple food, sometimes filled with unsavory pieces of "meat," draw our affection so? And why so much on Independence Day?
They're unhealthy, mostly inexpensive slabs stuffed into bland white buns. They also can be dangerous. Aside from their nutritional issues, hot dogs cause more choking deaths than any other food.
And truth be told, the common perception that the hot dog is "uniquely American" is debated by hot-dog historians.
Dr. Bruce Kraig, one such hot-dog historian and author of the book "The Hot Dog: A Global History," says the shape of meat on hot dogs can be traced deep into history.
"It goes back to the first encased meats, Paleolithic even," said Kraig, who has a doctorate in history and is the founder of the Culinary Historians of Chicago.
But from there, Americans can claim hot-dog ownership.
"The word 'hot dog' is uniquely American," he explains. Americans, in the late 1800s, are credited with the terminology, and with adding the bun to the equation. It gets a little tricky there as well, Kraig said. Germans used sandwich breads with sausages before Americans.
"What makes it American is the kind of bun used," he said.
Perhaps a more important question, though, is how someone becomes a "hot-dog historian."
"It was an accident, really," Kraig said.
He was on a speaking tour giving talks about humans eating actual dogs, which eventually evolved into research about the hot dogs. The rest is history.
But why do we eat so many on the Fourth of July?
Because we always have, said Marty Gillespie, accompanied by his son Tate, 14, shopping in downtown Lawrence on a recent weekday.
"It's just a tradition," Gillespie said. Both father and son favor mustard and ketchup on their dogs, the two most popular hot-dog toppings.
Gillespie speculates that the popularity of hot-dog eating contests, which are now televised on ESPN, may help reinforce hot-dog traditions in America. Marty and Tate have attended several events themselves, and Tate, inspired by the work of hot-dog eating masters, has managed to scarf down four in one setting.
As for the tradition of eating hot dogs on Independence Day, Kraig said it has to do with more practical reasons.
"They're portable," he said. The holiday is a "public festival and you have to have portable foods."
Copyright 2018 The Lawrence Journal-World. All rights reserved. This material may not be published, broadcast, rewritten or redistributed. We strive to uphold our values for every story published.