2100 block of Phillips Road
Air Traffic Control communications pertaining to Jefferson County plane crash
Photo Gallery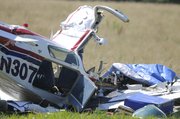 Jefferson County plane crash
Two people were killed in a plane crash in a field near Phillips Road north of Highway 24 in Jefferson County on Thursday, July 1.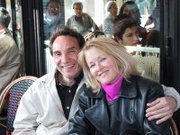 A Jefferson County rancher saw a plane flying very low Thursday morning, then a gust of wind shot the aircraft to the ground.
The rancher and one of his workers called 911 and rushed to the scene, where they discovered that two people had died when the small plane crashed nose-first into a hayfield in rural Jefferson County, about 10 miles northwest of Lawrence.
Killed in the crash, which occurred about 7:50 a.m. Thursday, were the plane's sole occupants: Gregory Collis, 56, and his wife, Pindi Williams, 54. The couple were from suburban Syracuse, N.Y., and on their way to New Mexico to visit relatives when the plane went down in a field about two miles north of U.S. Highway 24, just out of sight of nearby Phillips Road.
Air traffic data, reports from law enforcement and an audio recording from the air traffic control center in Kansas City, Mo., provide details about how the 1987 Beech Bonanza operated by an experienced pilot crashed on a sunny, clear-sky morning.
"I have an airplane that may have gone down north of Lawrence," said the calm voice of an air traffic controller, asking another pilot in the sky to help locate the plane. "We've communicated with him. He lost an engine."
"He was trying to get into Lawrence," the controller said. "He just didn't have enough altitude to get in there. … The last I heard, he saw a road."
Collis was trying to make an emergency landing at Lawrence Municipal Airport.
About 20 minutes earlier, he'd taken off from Charles B. Wheeler Downtown Airport in Kansas City, Mo.
According to Federal Aviation Administration flight tracking data, the westbound plane abruptly turned south when it was about five miles east of Perry Lake. Witnesses to the crash said the plane was heading south before it crashed.
The plane went down on the J Bar Ranch, owned by Mike Jamison, who was at work on his property with ranch hand Matt Walder.
"It was flying so low," Jamison said. "It caught some air, and it went down immediately."
The Kansas Highway Patrol, in conjunction with the FAA and the National Transportation Safety Board, were handling the crash investigation, said Jefferson County Sheriff Jeff Herrig.
The plane originally flew out of Hamilton Municipal Airport in Hamilton, N.Y., landing in Kansas City on Wednesday night. Collis and Williams were then scheduled to fly to St. John's, Ariz. Louie Peterson, a mechanic at Hamilton Municipal Airport who knew Collis, said the couple were on their way to visit Collis' sister in New Mexico.
Collis was a experienced pilot and knew the plane well, Peterson said.
"He's flown that thing all over the country," Peterson said. "From Colorado to California."
Peterson said Collis flew out of Hamilton airport a couple of times a week, and had owned the plane for at least a couple of years.
Flight tracking data shows that Collis' plane had flown seven times in the past two weeks.
Collis was an administrator for the Manlius Home for Adults, a nursing home in Manlius, N.Y. Peterson said that Collis also owned a small aviation business, Syracuse Aviation Services.
Copyright 2018 The Lawrence Journal-World. All rights reserved. This material may not be published, broadcast, rewritten or redistributed. We strive to uphold our values for every story published.