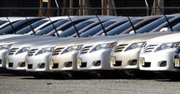 Crown Toyota awaiting word on repairs
Miles Schnaer, president of Crown Toyota/Scion in Lawrence, said his dealership was doing all it could to help customers deal with a massive manufacturer recall involving problems with accelerator pedals in many popular models.
He's just not sure when he'll be able to start making repairs, either to Toyota models on the road or sitting on his lot at 3430 S. Iowa. "Half of our inventory is not saleable," he said late Thursday afternoon. "We're waiting, just like everybody else is."
Until last year, Schnaer spent four years on Toyota's National Dealer Council.
Customers with questions may contact Crown at 843-7700.
Detroit — Toyota has begun shipping parts to fix the faulty gas pedals that led to a still-expanding recall and an unprecedented decision to stop selling and building some of its top-selling models, but it still could not say Thursday when millions of its drivers would get their cars fixed.
The world's largest automaker, bleeding millions of dollars a day in lost sales, also declined to say where the parts are going — to plants so production can start again or to dealers so they can start fixing cars in their showrooms or on the road.
Amid the uncertainty, the recall grew wider. Toyota expanded the recall beyond an initial 2.3 million vehicles and said it would recall an untold number in Europe and about 75,000 in China because of bad gas pedals that can become stuck.
The recall even spread beyond Toyota. Ford Motor Co. stopped production of some full-sized commercial vehicles built by a Chinese joint venture because they have accelerators built by the same parts supplier as in the Toyota recall.
Separately, Toyota recalled 1.1 million more vehicles this week because of floor mats that can bend and hold down the gas.
The gas pedal system recall includes 2009-2010 RAV4, the 2009-2010 Corolla, the 2009-2010 Matrix, the 2005-2010 Avalon, the 2007-2010 Camry, the 2010 Highlander, the 2007-2010 Tundra and the 2008-2010 Sequoia.
Toyota said the maker of the faulty gas pedal systems, CTS Corp. of Elkhart, Ind., was cranking out replacements at three factories, and that some of them have been shipped to Toyota. Meanwhile, Toyota engineers are working with CTS to develop ways to repair, rather than replace, the pedal systems in existing cars and trucks, said spokesman Brian Lyons.
But there was no estimate for how long it would be until customers can get their cars fixed. The parts are being made at CTS plants, but Toyota has not said where they're going within its system of plants and dealers.
House lawmakers, meanwhile, said they intend to conduct a Feb. 25 hearing to review the complaints of sudden unintended acceleration in Toyota vehicles. "Like many consumers, I am concerned by the seriousness and scope of Toyota's recent recall announcements," said House Energy and Commerce Committee Chairman Henry Waxman, D-Calif.
Transportation Secretary Ray LaHood said he had no details of how the problems would be fixed but said he had "no criticism of Toyota on this."
Safety experts say the best thing to do if the gas pedal sticks is to hit the brake hard and hold it firmly, then shift into neutral or shut the car off and steer to the curb.
Copyright 2017 The Associated Press. All rights reserved. This material may not be published, broadcast, rewritten or redistributed. We strive to uphold our values for every story published.