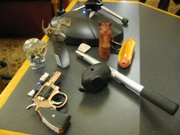 Topeka — When Nancy Niles Lusk of Overland Park showed her teenage sons a "handgun" lighter, they said, "wickedly awesome."
That's the problem, according to Lusk, fire officials, child advocates and health groups.
The novelty cigarette lighters that look like toys, household items, cartoon characters, guns, food, musical instruments, dragons and other objects are too attractive to children.
Sen. Oletha Faust-Goudeau, D-Wichita, has authored Kansas Senate Bill 342, which would ban the sale or distribution of so-called novelty lighters.
"The size of the lighters is perfect for a child's smaller hand, and it doesn't take much strength to operate them," she said. "Unfortunately, when the fire comes out, children do not know how to be careful that the fire does not spread to their surroundings."
State Health Officer Jason Eberhart-Phillips submitted testimony in support of the bill, saying the lighters can be dangerous.
"They're cute, they're little, but they are not toys and the consequences of playing with them could be deadly," he said.
Fire officials said that 14,500 structure fires were reported nationwide in 2006 that had been started by children playing with fire. Those fires resulted in 130 deaths.
The lighters are commonly sold in convenience stores and gasoline stations, officials said. All are manufactured in China, according to testimony to the Senate Federal and State Affairs Committee.
The committee took no action on the bill but is expected to work on the measure later this session.
Copyright 2018 The Lawrence Journal-World. All rights reserved. This material may not be published, broadcast, rewritten or redistributed. We strive to uphold our values for every story published.