On the street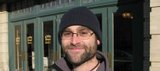 I do not think I will get an iPad because I'm too broke to buy something like that.
San Francisco — Apple CEO Steve Jobs unveiled the company's much-anticipated iPad tablet computer Wednesday, calling it a new third category of mobile device that is neither smart phone nor laptop, but something in between.
The iPad will start at $499, a price tag far below the $1,000 that some analysts were expecting. But Apple must still persuade recession-weary consumers who already have other devices to open their wallets yet again. Apple plans to begin selling the iPad in two months.
Jobs said the device would be useful for reading books, playing games or watching video, describing it as "so much more intimate than a laptop and so much more capable than a smart phone."
The half-inch-thick iPad is larger than the company's popular iPhone but similar in design. It weighs 1.5 pounds and has a touch screen that is 9.7 inches diagonally. It comes with 16, 32 or 64 gigabytes of flash memory storage, and has Wi-Fi and Bluetooth connectivity built in.
Copyright 2018 The Associated Press. All rights reserved. This material may not be published, broadcast, rewritten or redistributed. We strive to uphold our values for every story published.