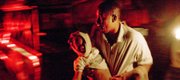 A 7.0 magnitude earthquake occurred 10 miles southwest of Port-au-Prince on Jan. 12, causing widespread devastation in Haiti's capital and throughout the country.
Photo Gallery
Earthquake strikes Haiti
Montreal — Haiti must lead the effort to rebuild after its devastating earthquake, the United States and other nations said as Haiti's prime minister acknowledged that relief efforts so far have fallen dramatically short.
"To date we have not been able to feed everybody, to give water to everybody," Prime Minister Jean-Max Bellerive said Monday at the end of a daylong conference intended to review and improve the delivery of short-term aid as well as chart a course for long-term recovery.
Haiti's magnitude-7 earthquake killed an estimated 200,000 people and left the poorest country in the Western Hemisphere virtually without a functioning government. It wrecked the presidential palace, parliament, government ministries and the U.N. headquarters, among thousands of other structures.
The conference did not result in any firm financial commitments, but Canadian Foreign Minister Lawrence Cannon said talks had produced "the beginnings of a roadmap" for helping get Haiti back on its feet, as well as a "shared vision" of the island nation's longer-term rebuilding.
Copyright 2018 The Associated Press. All rights reserved. This material may not be published, broadcast, rewritten or redistributed. We strive to uphold our values for every story published.