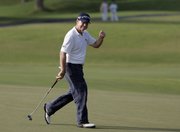 Kaupulehu, Hawaii — This time around, age prevailed.
Tom Watson became the 13th oldest player to win on the Champions Tour, birdieing the final two holes Sunday for one-stroke victory over senior newcomer Fred Couples in the season-opening Mitsubishi Electric Championship.
"This is what I live for in my career — to do what I did today," Watson said. "I don't think I'll have too many more, but I had this one."
The 60-year-old Watson, coming off a win with Jack Nicklaus in the Champions Skins at Kaanapali, closed with a 7-under 65 to finish at 22-under 194 for his 13th Champions Tour title and his first victory in 34 career starts in Hawaii on the two tours.
After pushing his drive into the right rough, Watson hit a spectacular second shot with a pitching wedge from 147 yards that rolled 20 feet on the 18th green and stopped four feet from the hole.
Couples, who closed with a bogey-free 64, just missed his 15-foot birdie putt to the left on the final hole. Watson calmly sank the winner and waved his cap to the roaring crowd, ending a memorable duel he dubbed "young kid versus old fart."
"It wasn't over until he said it was over," Couples said.
It was a sweet victory for Watson, who made a magical run last year at the British Open before losing to Stewart Cink in a playoff.
Watson didn't want another playoff Sunday.
"I didn't win last year. That's how I judge my year," he said. "If I win a golf tournament, it's a success. So I started off the year with a success."
Golf
3 tied atop Hope Classic
La Quinta, Calif. — Bubba Watson, Alex Prugh and Joe Ogilvie all had late chances to create a little separation atop the Bob Hope Classic field Sunday. All three made mistakes better suited to their amateur playing partners.
And that left a leaderboard crowded with low-profile pros seeking their first career victories in today's finale.
Watson double-bogeyed the final hole in the fourth round, dropping him back into a tie with PGA Tour rookie Prugh at 23-under 265. Prugh missed a three-foot putt to bogey his own final hole, while Ogilvie sat two strokes back after a double bogey on his 17th.
Tennis
Venus moves to quarters
Melbourne, Australia — Venus Williams advanced to the Australian Open quarterfinals for the seventh time to set up a meeting with China's Li Na, who never has made it this far at the tournament.
The sixth-seeded Williams beat Francesca Schiavone, 3-6, 6-2, 6-1, today, recovering after dropping a set to the Italian for the first time since 2003.
Li upset No. 4-seed Caroline Wozniacki, the U.S. Open finalist, 6-3, 6-2, in a 98-minute match featuring 12 service breaks.
n Andy Roddick held off 2007 Australian Open finalist Fernando Gonzalez, 6-3, 3-6, 4-6, 7-5, 6-2, to reach the quarters for the sixth time in eight years on Sunday. He'll meet No. 14 Marin Cilic of Croatia, who ousted U.S. Open champion Juan Martin del Potro in five sets.
Roddick bucked the trend on a day of upsets that also resulted in fourth-round exits for two of the top women: No. 2 Dinara Safina, last year's runner-up, and No. 3 Svetlana Kuznetsova, the reigning French Open champion.
n Defending champion Rafael Nadal and No. 5 Andy Murray held off two of the tallest men and biggest servers in tennis to set up a quarterfinal matchup.
Nadal had a 6-4, 4-6, 6-4, 6-4 victory over 6-foot-10 Ivo Karlovic of Croatia, and Murray overcame 6-foot-9 American John Isner 7-6 (4), 6-3, 6-2.
Auto racing
Hamlin tears ACL
Charlotte, N.C. — Denny Hamlin tore a knee ligament and won't have surgery to repair it until after the upcoming NASCAR season.
Hamlin said he tore the anterior cruciate ligament in his left knee playing basketball Friday. He had surgery in December on his right knee; the new injury is unrelated.
Hamlin is the popular preseason pick to unseat four-time defending champion Jimmie Johnson this year. He won two of the final 10 races last year, including the season finale.
Bowling
Kulick first female winner
Las Vegas — Kelly Kulick left all the guys in the gutter.
Kulick became the first woman to win a PBA Tour title on Sunday, beating Chris Barnes in the final of the 45th Tournament of Champions.
Kulick outscored Barnes, 265-195, to take home the $40,000 first prize and a two-year PBA Tour exemption. The 32-year-old right-hander earned a berth in the Tournament of Champions by winning the PBA Women's World Championship last September.
The previous best finish for a woman in a PBA Tour event was second by Liz Johnson of Cheektowaga, N.Y., in the 2005 Banquet Open.
NBA
Karl mulling Smith's future
Denver — The Denver Nuggets are talking about a possible punishment for sulking guard J.R. Smith, whose behavior has rubbed management the wrong way.
Smith didn't attend an optional practice Sunday, after which coach George Karl described his behavior on the bench Saturday night as "eclectic." Karl said he would meet with the team's brass before deciding what to do.
Mavs' Kidd misses time
New York — Jason Kidd missed the Dallas Mavericks' game against the New York Knicks because of personal reasons.
Owner Mark Cuban said it was a family matter, and the point guard is expected to play Tuesday when Dallas plays host to Milwaukee.
College football
Tebow facing critics
Mobile, Ala. — The questions came at Tim Tebow like a blitzing linebacker — about his mechanics, ball placement, footwork, release. All that technical stuff that the Florida quarterback will continue hearing about as he tries to transition to the NFL.
That was just from the media.
For all the talk about what he needs to change, Tebow is more focused on the latest piece of advice from Gators coach Urban Meyer ahead of his weeklong attempt to impress far more important observers: NFL executives and coaches at the Senior Bowl.
"Coach Meyer called me last night, and he said, 'Promise me one thing: Just be you and you'll be fine,'" Tebow said Sunday, a day before the players go through weigh-ins and their first practices in front of a few hundred NFL personnel. The Senior Bowl will take place on Saturday in Mobile, Ala.
MLB
Astros, Byrdak agree
Houston — Left-hander Tim Byrdak and the Houston Astros avoided salary arbitration by agreeing to a one-year, $1.6 million contract.
General manager Ed Wade said in a statement Sunday that the deal includes bonuses. Byrdak made $1 million in 2009. He asked for $1.9 million, and the Astros offered $1.3 million.
Copyright 2017 The Associated Press. All rights reserved. This material may not be published, broadcast, rewritten or redistributed. We strive to uphold our values for every story published.