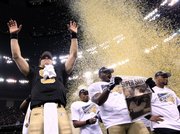 New Orleans — A 40-yard field goal in overtime by a little-known kicker could become as famous as jambalaya in these parts.
The New Orleans Saints, a team with no home and an uncertain future five years ago, are heading for their first Super Bowl. By battering Brett Favre and beating the Minnesota Vikings, 31-28, Sunday, they set off celebrations on Bourbon Street that locals never could have imagined in the aftermath of Hurricane Katrina.
"This is for everybody in this city," said coach Sean Payton, the architect of the Saints' turnaround. "This stadium used to have holes in it and used to be wet. It's not wet anymore. This is for the city of New Orleans."
And it came courtesy of Garrett Hartley and the Aints — who surely ain't the Aints anymore.
"In reality, we had to lean on each other in order to survive and in order to get where we are now," quarterback Drew Brees said. "The city is on its way to recovery, and in a lot of ways has come back better than ever. We've used the strength and resiliency of our fans to go out and play every Sunday and play with the confidence that we can do it, that we can achieve everything we've set out to achieve."
Favre threw away Minnesota's best chance to win, tossing an interception deep in New Orleans territory in the closing seconds of regulation. Then the Saints won the coin toss and ended it on Hartley's kick 4:45 into OT.
"Just helping my team get to Miami," he said. "Just doing my part."
A team of nomads after Katrina ravaged its city and the Superdome overcame a slew of mistakes in the biggest game the Big Easy has ever seen.
Forget the paper-bag masks and that long history of losing that started in 1967. Moments after Hartley's kick, they were toasting their hometown winners in the French Quarter and making plans for South Florida.
The Saints (15-3) will meet Peyton Manning and the Indianapolis Colts (16-2) in the Super Bowl in two weeks in Miami.
"Brett prepared us, but now we've got another challenge in Peyton," safety Darren Sharper said.
And in the Superdome, once a squalid refuge after Katrina, they boogied in the aisles as confetti covered the field.
"It's a moment I've been waiting for for a long time, and obviously we're not done yet," Brees said.
It's the first time the top seeds in each conference made the big game since the 1993 season.
Copyright 2018 The Associated Press. All rights reserved. This material may not be published, broadcast, rewritten or redistributed. We strive to uphold our values for every story published.