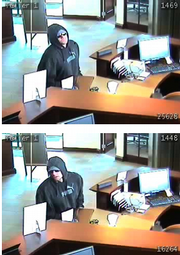 Lawrence police are asking for the public's help in identifying a man who was acting suspiciously Friday afternoon at Peoples Bank, 3045 Iowa.
The man had already left the bank about 2 p.m. when officers were called there, Sgt. Bill Cory said in a news release.
Bank employees said the man has been in the bank but did not conduct any business or talk with any employees. The man was acting nervously and left when another customer entered the lobby, Cory said.
Police released photos of the man, who was wearing sunglasses and had his sweatshirt hood up over a hat, from inside the bank.
He is described as an approximately 30-year-old white man, 5-feet 9 inches tall and weighing 170 pounds.
Anyone with information can call police at 830-7430 or Crime Stoppers at 842-TIPS.
Copyright 2018 The Lawrence Journal-World. All rights reserved. This material may not be published, broadcast, rewritten or redistributed. We strive to uphold our values for every story published.