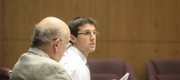 More coverage of the trial of a former Kansas University student accused of beating and kidnapping his ex-girlfriend.
A juror who was dismissed for misconduct in the Matthew Jaeger kidnapping and aggravated battery case will not have to testify in court.
"There's no question (the juror) committed misconduct and no question the court had to act," Chief Douglas County District Judge Robert Fairchild said Monday. "The law is clear on that."
Defense attorneys for Jaeger, 24, a former Kansas University student from suburban Chicago convicted of attacking his ex-girlfriend, argue that the dismissal of juror Shaun Edmondson created an unfair trial.
During deliberations in August, an alternate juror replaced Edmondson, who said he had re-enacted a defense theory of the victim falling onto a bed rail. The jury one day later convicted Jaeger of kidnapping, aggravated battery and making a criminal threat.
Jaeger's defense attorneys argue that the jurors only reported Edmondson's misconduct after they believed they were deadlocked at 11-1 with Edmondson in dissent.
But prosecutor Jason Hart, an assistant Kansas attorney general, said jurors weren't "of one mind" even after Edmondson was dismissed because they acquitted Jaeger of the most severe charge, aggravated kidnapping, and could not reach a verdict on an aggravated burglary charge.
Fairchild denied the defense request for Edmondson to testify at a hearing. The judge said the juror who learned that Edmondson conducted the re-enactment agonized overnight whether he should report it until he finally did the next morning.
"The problem is they should have reported it, and they did report it regardless of what their motive is for reporting it," Fairchild said.
Attorney Pedro Irigonegaray said the defense will still argue that the juror misconduct created an unfair trial at the next motions hearing Feb. 11.
Prosecutors during the trial said Jaeger became jealous when he found another man, Dylan Jones, at the Lawrence apartment of his ex-girlfriend, Francie Biggs, on Oct. 9, 2007. They said he choked her unconscious, injured her vaginal area and then dragged her from the apartment. The defense argued Biggs fell onto a bed rail and injured herself during the commotion.
Jaeger's sentencing is currently scheduled for March 4. He faces at least four years in prison.
Since the August verdict, he has been in the Douglas County Jail. Jaeger appeared in court Monday in street clothes and leg shackles. Biggs also attended the hearing with family members.
Copyright 2018 The Lawrence Journal-World. All rights reserved. This material may not be published, broadcast, rewritten or redistributed. We strive to uphold our values for every story published.