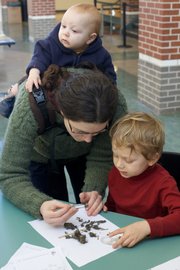 Nine-year-old Adam Ziegler spent his Sunday dissecting owl pellets with his grandfather, retired biology teacher Stan Roth.
Adam went through his pellet, which is basically a regurgitated ball of items that owls can't digest, and loved finding bones hidden inside. He didn't find it gross at all.
"I think it's a shrew," he said of the bones in his fourth pellet.
Just to Adam's left were three large birds that have made some pellets in their time. They were on display at Free State High School as part of the 14th annual Kaw Valley Eagles Day.
The free event usually attracts about 1,000 visitors to learn about eagles, other birds of prey and ecology. Numerous community groups set up stands to provide information to participants about a particular interest.
But they all have at least one shared affinity.
"The one thing that I think all of the groups that participate have in common is a love for nature," said Joyce Wolf, a member of the Eagles Day planning committee and program chair for the Jayhawk Audubon Society, which sponsors the event. "It's sharing that love with the public and with the kids."
The event isn't just about eagles. "It just so happens that eagles are such a gee-whiz critter in American society," said Roth. But the information groups weren't eagle-centric. "I made a tour around here once and it was probably 50 minutes before I got back here."
The day includes close-up time with eagles, including ranger guided tours to give people the chance to see the birds in the wild. "It gives people an opportunity to interact with wild animals and find out about ecology and the environment," Wolf said. "It's just grown to be a real tradition."
Copyright 2018 The Lawrence Journal-World. All rights reserved. This material may not be published, broadcast, rewritten or redistributed. We strive to uphold our values for every story published.